Audience Engagement Training
About this Lesson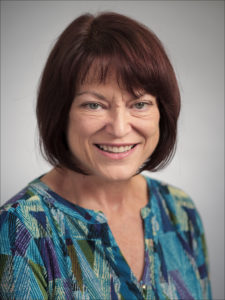 The relationship between journalists and their audience is constantly evolving. Readers and viewers are no longer content to be passive receivers of news, they want to be partners in the process. And journalists can no longer be detached observers. They must work with members of the audience in both the creation and sharing of stories. This process is called audience engagement.
What you will learn
After completing this unit, you should be able to:
Define audience engagement and explain how it works
Understand out to grow your audience on various platforms
Measure your audience's growth on various platforms
Understand the concept of search engine optimization and why it matters
How the lesson works
First of all, this is an asynchronous lesson unit, which means no live events are scheduled for this lesson. You can complete learning activities at your own pace whenever is convenient for you. Despite the asynchronous nature, the learning tasks are organized to help you succeed.
To be successful in this unit, please complete the following tasks:
• Watch the lecture.
• Take the quiz to test your own understanding.  This will help you to strengthen the concepts you just learned.
• Optional: Due to the amount of content to be covered in a single unit, we encourage you read these additional resources. Some of the quiz questions might come from the readings in Additional Resources section.
Watch the Lecture

Click on the Launch button to start
 Take the Quiz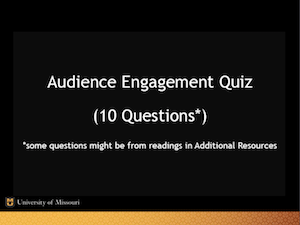 Direction: Some of the questions might from the readings in Additional Resources below

Click on the Launch button to start
Lesson Resources
Lecture Script: Download it here
Printable Quiz: Audience Engagement
ASNE Classroom Resources
Additional Resources
Denise-Marie Ordway, JournalistsResource.org: "What Audiences Think of Journalists' Use of Social Media"
Sandy Honig, Gigaom: "Guardian Says Open Journalism Is the Only Way Forward"
Greg Emerson, Carla Zanoni and Alexandra Smith. Online News Association conference audio recording: "A Three Part Plan for Audience Engagement."
Jennifer Brandal, Medium.com: "Questions are the new comments"
The Coral Project: "Audience and Newsroom Needs"
Julia Haslanger, Medium.com: "Hey Reporters: An alternative to #DontReadTheComments: Jump in"
Julia Haslanger, Medium.com: "25 Useful links from 2015 about audience engagement efforts in newsrooms"
Katie Yeager. World Association of Newspapers and News Publishers: "Thinking of Readers as More Than Just Numbers."
Joy Mayer:  "Three Kinds of Engagement: Outreach, Conversation, Collaboration."
KissMetrics.com: "50 Resources for Getting the Most Out of Google Analytics."