Reporting & Interviewing Training
 
About this Lesson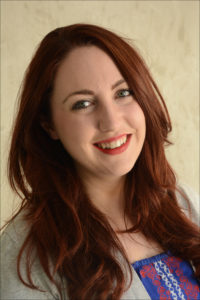 In any news story, the people interviewed are crucial not only for fact-finding but also making the story memorable for readers, listeners and viewers. Even the driest hard news story can become memorable and then more impactful by having effective soundbites and quotes. Finding the right people to interview is critical, but a reporter asking the right questions is perhaps even more important.
What you will learn
After completing this unit, you should be able to:
• Understand how to find a variety of interview subjects appropriate for stories
• Prepare questions that will gain effective source responses for basic facts, context and emotion
• Conduct an interview with confidence
• Identify key ethical concerns about interviewing, including use of confidential sources and on and off the record information
How the lesson works
First of all, this is an asynchronous lesson unit, which means no live events are scheduled for this lesson. You can complete learning activities at your own pace whenever is convenient for you. Despite the asynchronous nature, the learning tasks are organized to help you succeed.
To be successful in this unit, please complete the following tasks:
• Watch the lecture.
• Take the quiz to test your own understanding.  This will help you to strengthen the concepts you just learned.
• Optional: Due to the amount of content to be covered in a single unit, we encourage you read these additional resources. Some of the quiz questions might come from the readings in Additional Resources section.
Watch the Lecture

Click on the Launch button to start
Take the Quiz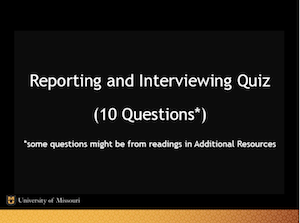 Direction: Some of the questions might from the readings in Additional Resources below

Click on the Launch button to start
Lesson Resources
Lecture Script: Download it here
Printable Quiz: Reporting & Interviewing
ASNE Classroom Resources
Lessons: Reporting and Interviewing
Additional Resources
Chip Scanlan, Poynter: "How Journalists Can Become Better Interviewers"
Ann Friedman, Columbia Journalism Review: "The Art of the Interview: Asking the Hard Questions about Asking the Hard Questions"
BBC Academy: "Interviewing" (a series of excellent articles)
María Emilia Martin, Global Investigative Journalism Network: "The Art of the Interview"
Katie Couric, CBS Evening News: "Katie Couric on How to Conduct a Good Interview"