Scholarships
National
Accredited Schools Online
Scholarships, grants, and financial aid for minority students. The awards range from $500 to $15,000.
Did you know? Students who qualify for federal financial aid must attend a school accredited by agencies approved by the U.S. Department of Education in order to receive student aid funding, including grants and loans. There's virtually no difference between an online or on-campus student receiving federal student aid, and today's nonprofit campus schools are no different than their online school counterparts. As a matter of fact, many legitimate and respected brick-and-mortar institutions offer online programs for completing a college degree. We are proud to list only accredited schools on this website.
Ayn Rand's Atlas Shrugged Essay Contest
This contest awards prizes up to $10,000 for the 12th graders, undergraduate and graduate students with the best essays about the novel Atlas Shrugged. Students select from one of the three topics listed on the website.
Camera Rated Photography Scholarship
To participate in this scholarship program, you have to write an article on the topic.
Commaful has an annual $1,000 scholarship open to all majors. This will be judged on creativity and storytelling. Send in 3 short stories (no length restrictions or minimums) that show why you are a unique storyteller!
David S. Barr Award
This scholarship is available to high school and post-secondary students. The awards range from $500 to $1,500.
Please write a 800-1,500 word essay about a new business idea that you think would help to make the world a better place.
Financial Aid for Minority Students
A comprehensive scholarship list that includes financial aid opportunities exclusively reserved for African-Americans, Hispanics, women and other specific minority groups, as well as more generalized awards that are made available to applicants belonging to any underrepresented demographic.
Financial Aid Opportunities for Minority Students
Bestcolleges.com has compiled a directory of diversity scholarships and educational support programs and arranged them by category.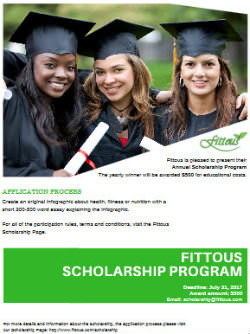 Fittous Scholarship Create an infographic about living a healthy lifestyle and win $500.
Fred Russell-Grantland Rice TRA Sports Writing Scholarship
High school seniors with a serious interest in pursuing Sports Writing as a career are eligible. The scholarship is awarded for up to for years per recipient with a minimum amount of $10,000 per year.
The Free Spirit Scholarship
Students must be in their junior year of high school to apply. The scholarship includes $1,000 and an invitation to receive the scholarship at the Free Spirit Journalism Conference.
Prepare a list of nature-saving rules on one of the following subjects and use social media to promote:
The Nature-Saving Rules of Responsible Camping
How Hikers Can Make Sure That They Don't Hurt Wildlife
Recommendations for Responsible Behavior Near Bodies of Water
Blogging is a great way for students to dive deep into a passion of theirs while gaining marketable skills such as professional writing, web development, and more. Deadline: Applications are accepted year-round
Tons of work, misunderstandings with teachers, zero time for yourself… Students experience these and many other issues every day. Are there any tips to help young scholars handle these challenges? The IvyPanda team wants to hear your opinions and advice, so we decided to establish the $1,500 Video Contest Scholarship for Creative Students.
James Alan Cox Foundation For Student Photojournalists Scholarship
This scholarship is available to high school students who are a sophomore or older, but they must also have at least one semester of high school left to complete. Students must submit written work and a portfolio of photographs. The prize is a digital camera.
JEA Journalist of the Year Scholarships
High school journalists are eligible. This scholarship awards $3,000 to the winner and $850 for up to six runners-up.
JEA Future Teacher Scholarships
The Journalism Education Association sponsors up to five $1,000 scholarships for education majors who intend to teach scholastic journalism. Each recipient must be an upper-division or master's degree student in a college program designed to prepare him/her for teaching at the secondary-school level. Current secondary-school journalism teachers who are in a degree program to improve their journalism teaching skills are also eligible.
Lebanese American Heritage Club Scholarship
High school seniors, college and graduate students of Arab descent may apply for the $1,000 scholarship. Priority will be given to students studying Mass Communication, Political Science or related fields.
National Association of Black Journalists Scholarships
Scholarships range from $1,500 to $2,500. College students and high school students who are studying or interested in studying journalism are eligible. Applicants must also be members of NABJ.
The National Press Club's Ryan G. Zimmerman Scholarship
High school seniors pursuing a career in journalism are eligible. The scholarship is a one time gift of $5,000.
Native American Journalists Association Scholarships
NAJA offers scholarships from $500 to $2,500 for Native American students studying journalism. Applicants must be NAJA members.
New England Newspaper and Press Association
Up to 10 scholarships are awarded each year. College students and high school seniors studying and acquiring work experience in journalism are eligible.
Quill and Scroll Scholarships
To apply, students must be high school seniors and winners of the International Writing or Photography contests or the Yearbook Excellence contest.
Radio Television Digital News Foundation Scholarships
The Radio Television Digital News Foundation invites student and early career broadcast journalists to apply now for one of the Foundation's seven undergraduate scholarships or four professional fellowships for the Fall 2015-Spring 2016 academic year. The deadline to apply is April 30, 2015. The foundation offers funding for students of color; prizes for sports, health, and national security reporting; awards in memory of journalism pioneers; and more. In addition to receiving cash awards of between $1,000 and $10,000, scholarship and fellowship winners will be invited to the 2016 First Amendment Awards Dinner in Washington and the Excellence in Journalism 2016 conference in New Orleans.
It is necessary to be a US citizen who is at least 16 years old.
It is necessary to be a full-time college student or accepted for graduate or undergraduate program.
Student needs to write an article on the topic "Resume With No Experience: Enter Workforce With Confidence" and place it on his/her blog with a tag Scholarship from Resume Writing Lab (linking to this page).
Application deadline: December, 31, 2018
The Scholastic Art and Writing Awards
Scholarships and awards are available to students from grades 7 to 12.
Students who plan on pursuing and education in science, tech, engineering or math (STEM) are invited to take part. Here is some info about this year's contest…2017 Topic: "Inspiring Men & Women of Science and Technology" — We're asking this year's participants to research and select a notable man or woman of history who inspired them through innovation, science, engineering or technology.
William B. Ruggles Journalist Scholarship
Applicants must be attending or admitted to an accredited undergraduate journalism program or higher. The $2,000 scholarship is awarded to one student each year.
By State
Alabama
Samford University
Samford's Journalism and Mass Communication program will award six to eight partial scholarships to freshmen, worth $1,800 per year, for the fall of 2014. These scholarships are renewable for students in the JMC program. Samford offers programs in print and broadcast journalism, public relations and advertising. The deadline to apply is March 1, 2014.
Alabama Scholastic Press Association
The Alabama Scholastic Press Association at the University of Alabama invites middle and high school students (grades 6-12) to register to attend its summer journalism camp, The Long Weekend, on campus in Tuscaloosa June 13-15. Students can attend with or without their media staffs and advisers. All skill levels are welcome, from novice to pro! The cost for the weekend is $125, which includes room and board, tuition and all meals. We welcome out-of-state students and, at this point, have students from 10 states registered.
California
California Chicano News Media Association Scholarships
High school seniors and college students are eligible. Students must be Latino with the intention of pursuing career in journalism. (A journalism major is not necessary.) The scholarships are anywhere from $500 to $1,000.
Joel Garcia Memorial Scholarship
Latino college students or graduating high schools seniors pursuing a career in journalism are eligible for this scholarship. Applicants must be attending or planning to attend university in California or they must be a California resident. Scholarship amounts range from $500 to $2,000 per recipient.
Southern California Journalism Education Association
The deadline for the applying is June 15. The Society of Professional Journalists Los Angeles will award scholarships to students interested in pursuing careers in journalism. Students from Los Angeles, Orange and Ventura counties who have completed at least their freshman year of college, as well as graduate students from those same counties, are eligible to apply for all scholarships. Scholarships amount range up to $1,000 for each scholarship offered.
Colorado
Colorado Press Association Scholarship for High School Students
Up to three $1,500 scholarship awards will be awarded to graduating high school seniors from Colorado high schools who have been active and held a leadership position in their high school's newspaper, media club, or yearbook. The deadline for the 2015 application is March 2, 2015.
Dorothy Greer Scholarship
This scholarship is available to students attending high school in Colorado who have experience in journalism and plan to attend junior college, college or university. Students attending college in Colorado are eligible for a $2,000 prize, and students attending college out of state are eligible for a $1,000 prize.
Eric Benson Scholarship
This scholarship is offered to any Colorado high school senior whose school is a member of the Colorado Student Media Association. It is a one-time award of $600. In addition, this scholarship carries a need-based criteria as well as journalism experiences. The scholarship must be claimed within two years of graduating from high school or it is forfeited.
Connecticut
Valley Press Club Scholarship
High school seniors living in western Massachusetts or northern Connecticut planning to study journalism in college are eligible for this $1,000 scholarship.
New York Women in Communications Foundation Scholarship ProgramHigh school seniors and college students who are permanent residents of NY, NJ, CT or PA are eligible. Applications must be women involved in communications and majoring in a communications-related field. Scholarships range from $2,500 to $10,000.
Iowa
Iowa Newspaper Foundation
The Iowa Newspaper Foundation offers a number of scholarships to journalism and communication students. The 2014 deadline has passed.
Maine
Guy P. Gannett Scholarship Fund
This scholarship supports students majoring in journalism and related fields. Graduates of Maine high schools and those home-schooled in Maine their final year of secondary education are eligible.
Massachusetts
Valley Press Club Scholarship
High school seniors living in western Massachusetts or northern Connecticut planning to study journalism in college are eligible for this $1,000 scholarship.
Minnesota
The Minnesota Society of Professional Journalists Scholarship
This award of $2,500 is available for two students pursuing careers in journalism. Applicants must Minnesota high school graduates or enrolled in post-secondary institutions in Minnesota.
Mississippi
The Mississippi Press Association
Three scholarships of $500 per semester are available to journalism students.
Nebraska
Marianne Beel Memorial Scholarship
This $500 scholarship is awarded each year to graduating Nebraska high school writers, photographers or videographers interested in rural Nebraska.
Nebraska Press Association Scholarship
This $2,000 scholarship is for students graduating from high school and seeking to enroll in Nebraska colleges and universities.
New Jersey
New York Women in Communications Foundation Scholarship ProgramHigh school seniors and college students who are permanent residents of NY, NJ, CT or PA are eligible. Applications must be women involved in communications and majoring in a communications-related field. Scholarships range from $2,500 to $10,000.
Bernard Kilgore Memorial Scholarship
This is a $5,000 scholarship awarded to a high school senior in New Jersey who will study journalism in college.
FunNewJersey offering a scholarship essay contest for New Jersey residents who are planning on attending school in state. Recipients will also have the opportunity to complete an internship at FunNewJersey.com, a great opportunity for students looking to gain hands-on experience with marketing, communications, PR or Internet journalism.
North Carolina

Rachel Rivers-Coffey Scholarship
The winner of the Student Journalist of the Year competition receives this scholarship from the N.C. Press Foundation, valued at $2,000. High school seniors who have been involved with journalism for at least two years, have at least a 3.0 unweighted GPA, and plan to study journalism and mass communication in college and pursue either as a career are eligible to apply
Ohio
Ohio Newspaper Foundation Minority Scholarship
This scholarship is for $1,500 and is awarded to a minority high school senior in Ohio who plans to study journalism, marketing or communication at an Ohio college or university.
Oklahoma

Oklahoma Gridiron Scholarship
Applicants must be pursuing a degree in a journalism or communications-related field.
Oregon
Oregon Association of Broadcasters ScholarshipThis scholarship is for high school seniors who are Oregon residents and plan to study Broadcast or related majors. The award is between $2,500 and $3,500.
Pennsylvania
Bridge Builders Community Foundations
The Nicholas R. Sanford Memorial Journalism Scholarship is available for high school students planning to study journalism.
New York Women in Communications Foundation Scholarship ProgramHigh school seniors and college students who are permanent residents of NY, NJ, CT or PA are eligible. Applications must be women involved in communications and majoring in a communications-related field. Scholarships range from $2,500 to $10,000.
Texas
North and East Texas Press Association
This scholarship for $750 per semester is open to one graduating high school senior and one enrolled college student.
Virginia
Intermarkets Lucido Journalism Scholarship
This scholarship is available to high school seniors who are majoring in Journalism. Applicants must be residents of Virginia and have graduated from high school in Virginia. The scholarship is $5,000.
Washington
Central Washington University has a $6,000 scholarship for a high school or community college journalist who holds great promise to help lead The Observer over the next two years. Please send six clips (pdfs or online versions ok), your resume, a cover letter, and two letters of recommendation – one of which must be from your community college or high school newspaper or yearbook adviser – to Cynthia Mitchell at [email protected] by May 1, 2015. You must have a cumulative GPA of 3.0 and have worked for at least a year at your community college or high school newspaper. Following your selection by the scholarship committee, you need to be admitted and fill out a FAFSA before you enroll. To be eligible for a second year of support, at a minimum, you will be required to remain in good academic standing, earn a 2.75 cumulative GPA, and have proven to be a valuable member of The Observer team. We look forward to seeing your application!
Washington Journalism Education Association
The winner of this $2,000 award for graduating high school seniors will also be entered into a national high school journalist of the year scholarship competition.
West Virginia
West Virginia Press Association
The WVPA sponsors hosts several scholarships for West Virginia residents planning to study journalism in West Virginia. Scholarships are between $500 and $2,500.
Related Scholarships and Contests
The $1,000 Active Calendar Scholarship 2015
At Active Data, we are big believers in higher education, so we started a little college scholarship program to help one student make their college experience more affordable. If you are a college student or are soon to become one, entering is easy. Just write an essay between 500-1,000 words telling us why knowing what's happening on campus is vital to your success as a student. The winner will be chosen and announced on Thursday, April 30, 2015.
The American Legion Oratorical Contest
This academic speaking contest offers $1,500 scholarships for all national-level participants and additional scholarships for three finalists.
AmeriQuest Transportation Services Scholarship – Win a $1,000 Scholarship
Students who are studying or are planning to study a technology or business derived major, or a related field or trade, are invited to take part in our $1,000 scholarship essay competition. Whether you know it or not, the transportation industry is suffering from a serious shortage of drivers. This problem has forced the industry to begin reevaluating its practices, hoping to attract a new pool of young, qualified drivers. The topic for this year's scholarship essay competition is, "What can the transportation industry do to attract a new generation of drivers?" For your essay, take this concept and present your ideas as to how the industry can best market these jobs to young adults and millennials.
Dr. Wangari Maathai Award for Civic Participation in Sustainability
This scholarship is awarded annually to two New York City high school seniors. The $10,000 award is for students dedicated to environmental stewardship in an urban setting.
Foundation for Individual Rights in Education
This foundation offers a $1,000 scholarship to the winner of a First Amendment themed essay contest. High school juniors and seniors are eligible to compete.
Minnesota Supreme Court Historical Society Contest
High school students from Minnesota may enter to win up to $500 in this annual essay contest.
The National Peace Essay Contest
The United States Institute of Peace sponsors a yearly essay contest for high school students to explore peace building. More than 50 scholarships may be awarded.
Nissenbaum Internet Law Scholarship
The Nissenbaum Law Group, a multi-state law firm with a focus in Internet law, has established the Nissenbaum Internet Law Scholarship. It is geared to undergraduate and post-graduate students of an American scholastic institution. The two winners will each receive a $500 scholarship. The firm may also award non-monetary honorable mention(s). The topic for the scholarship essay is: How can the American legal system improve its approach to policing and regulating digital technology without unduly stifling innovation and civil liberties?
Reed Tech Scholarship Opportunity, $1,000
Innovations drive progress, economic growth and are the engine that moves patent-driven companies forward. Students who have studied STEM majors have gone on to develop innovations that have materially changed both our work and leisure lives. For this essay, please write about a significant innovation, what benefits it has provided and how you would improve upon it.
Southland Electrical Supply Scholarship Program, $1,000
Are you interested in furthering your career and life by going to college? Is your dream to become the next Alfred Nobel? Are you looking for ways to cut tuition costs? Students who studying or planning to study in a STEM (science, technology, engineering, math) major or a related field or trade are invited to take part in our essay competition. Please write an essay about "How innovation affects the science, technology and trade industry" Take this concept and apply it to a field or trade of your choice, explaining how innovation has changed and will continue to change your chosen discipline.