Web Design Training
 About this Lesson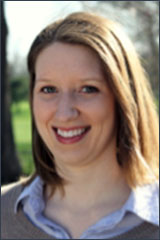 The Internet is a powerful tool for finding and sharing information. The barriers to entry are low, and anyone can set up a website even if he or she is not familiar with HTML, CSS or JavaScript. Whether you are building a site from scratch or utilizing a template from a service, such as WordPress, there are some guiding principles for making your site easy to use and visually appealing.
What you will learn
After completing this unit, you should be able to:
Plan a site that considers a user's needs.
Understand the importance of white space and establishing visual hierarchy.
Understand some best practices for incorporating ads.
How the lesson works
First of all, this is an asynchronous lesson unit, which means no live events are scheduled for this lesson. You can complete learning activities at your own pace whenever is convenient for you. Despite the asynchronous nature, the learning tasks are organized to help you succeed.
To be successful in this unit, please complete the following tasks:
• Watch the lecture.
• Take the quiz to test your own understanding.  This will help you to strengthen the concepts you just learned.
• Optional: Due to the amount of content to be covered in a single unit, we encourage you read these additional resources. Some of the quiz questions might come from the readings in Additional Resources section.
Watch the Lecture

Click on the Launch button to start
 Take the Quiz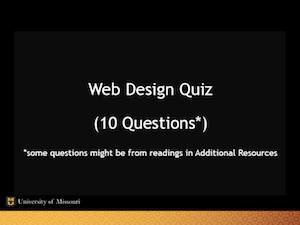 Direction: Some of the questions might from the readings in Additional Resources below

Click on the Launch button to start
Lesson Resources
Lecture Script: Download it here
Printable Quiz: Web Design
ASNE Classroom Resources
Additional Resources
Steve Krug: "Don't Make Me Think: A Common Sense Approach to Web Usability"
Jerry Cao, Kamil Zieba and Matt Ellis, Fast Company Design: "Why White Space is Crucial to UX Design"
Multiple topics and authors, A List Apart: "Explores the design, development, and meaning of web content, with a special focus on web standards and best practices."
Matt Doyle, Elated.com: "Responsive Web Design Demystified"
Alex Remington, Reynolds Journalism Institute: "How do we improve online news design to help readers better understand stories?"
Brian Leonard: "Teaching CSS"
Luke Wroblewski: "There is no fold"
Damian Wielgosik: "How to Code in HTML5 and CSS3" (free e-book)
Information Architects: "Web Design is 95% Typography"