Blogging Training

About this Lesson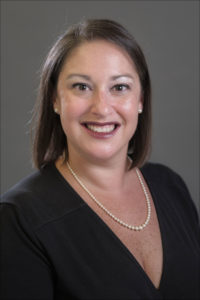 In the past decade or so, journalists have adopted blogging as a means to complement their news coverage. Many reporters blog in order to give a "behind the scenes" look into their reporting, to share additional detail or analysis that limitations on space or time forced out. Most blogging software in use today uses a "WYSIWYG" (what you see is what you get) interface, making it easy to use for journalists with little to no knowledge of HTML, CSS or JavaScript.
What you will learn
After completing this unit, you should be able to:
• Understand what a blog is.
• Know how a blog can complement news coverage.
• Have some ideas for blogs you can implement at your publication.
How the lesson works
First of all, this is an asynchronous lesson unit, which means no live events are scheduled for this lesson. You can complete learning activities at your own pace whenever is convenient for you. Despite the asynchronous nature, the learning tasks are organized to help you succeed.
To be successful in this unit, please complete the following tasks:
• Watch the lecture.
• Take the quiz to test your own understanding.  This will help you to strengthen the concepts you just learned.
• Optional: Due to the amount of content to be covered in a single unit, we encourage you read these additional resources. Some of the quiz questions might come from the readings in Additional Resources section.
Watch the Lecture

Click on the Launch button to start
 Take the Quiz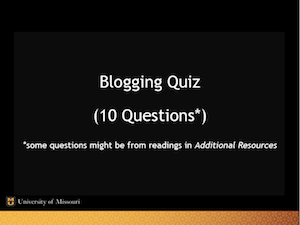 Direction: Some of the questions might from the readings in Additional Resources below
Click on the Launch button to start
Lesson Resources
Lecture Script: Download it here
Printable Quiz: Blogging
ASNE Classroom Resources
Additional Resources
Al Tompkins, Poynter: "Blog Ethics" (pdf)
Matt Wells, The Guardian: "How Live Blogging has Transformed Journalism"
Belle Beth Cooper, The Buffer Blog: "16 Top Tips From Blogging Experts for Beginners"
J.D. Lasica, Nieman Reports: "Blogs and Journalism Need Each Other"
Convergence Journalism: "How to Launch a WordPress Blog"
Srikanth AN, Shout Me Loud: "What is the Difference Between a Blog and a Website"
Jessica Knapp, Blogging Basics 101: "Choose the Best Blogging Platform – Comparison 2015"
Catalina Albeanu, Journalism.UK: "50 Blogs for Journalists, by Journalists"
Sara Hawkins, Life Hacker: "The Best Ways to be Sure You're Legally Using Online Photos"