Polls & Survey Training
 
About this Lesson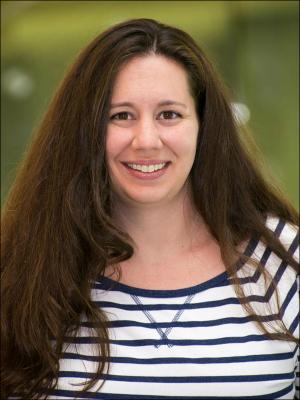 There are many reasons why student journalists may want to report on the results of a poll or survey, or even conduct their own survey or poll. Polls can introduce an important issue to readers, help readers to better understand the issue, and even allow readers to explore how others in their community feel about an issue. When journalists report on or create a survey for reporting purposes, there are several things they must keep in mind to make sure they are giving their readers accurate and objective information about the survey.
What you will learn
After completing this unit, you should have a basic understanding of:
How polls and surveys can be used in a news story
The things to keep in mind when reporting on a poll or survey
How to craft and conduct your own valid poll
The basic methods of analyzing your survey results
The things to consider reporting the findings of your own poll or survey.
How the lesson works
First of all, this is an asynchronous lesson unit, which means no live events are scheduled for this lesson. You can complete learning activities at your own pace whenever is convenient for you. Despite the asynchronous nature, the learning tasks are organized to help you succeed.
To be successful in this unit, please complete the following tasks:
• Watch the lecture.
• Take the quiz to test your own understanding.  This will help you to strengthen the concepts you just learned.
• Optional: Due to the amount of content to be covered in a single unit, we encourage you read these additional resources. Some of the quiz questions might come from the readings in Additional Resources section.
Watch the Lecture

Click on the Launch button to start
 Take the Quiz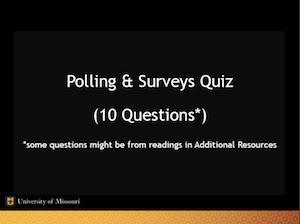 Direction: Some of the questions might from the readings in Additional Resources below

Click on the Launch button to start
Lesson Resources
Lecture Script: Download it here
Printable Quiz: Polls & Surveys
ASNE Classroom Resources
Additional Resources
Journalists' Resource, "Polling Fundamentals and Concepts: An Overview for Journalists."
The National Council on Public Polls, "20 Questions A Journalist Should Ask About Poll Results."
Pew Research Center, "Collecting Survey Data."
Survey Monkey, "Survey Sample Size."
ONLINE SURVEY TOOLS