Sports Reporting and Writing Training
 
About this Lesson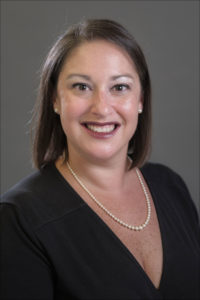 Can you imagine a job where you going to work everyday means watching baseball, basketball, football or tennis and then writing about it? That's what sports reporters do. Sort of. That's because sports reporting is more than sitting in the stands and reporting who won or lost the game. It means being a good journalist who understands the basics of story development, interviewing, media law – but who also knows sports. That means understanding the rules of the game(s), the players, the coaches, the records, etc. That means being able to spot decisive moments in a game or match and to ask players and coaches about them in a way that yields meaningful quotes.
What you will learn
After completing this unit, you should be able to:
Understand the basics of reporting on the sports beat
Identify different types of stories, such as game stories, preview stories and sports features
Understand the mechanics of sports writing
Strategically use your publication's website and social media channels to report timely information between print or broadcast runs
Gain access to sporting events through proper credentialing
Explain the importance of objectivity when covering a sports team
How the lesson works
First of all, this is an asynchronous lesson unit, which means no live events are scheduled for this lesson. You can complete learning activities at your own pace whenever is convenient for you. Despite the asynchronous nature, the learning tasks are organized to help you succeed.
To be successful in this unit, please complete the following tasks:
• Watch the lecture.
• Take the quiz to test your own understanding.  This will help you to strengthen the concepts you just learned.
• Optional: Due to the amount of content to be covered in a single unit, we encourage you read these additional resources. Some of the quiz questions might come from the readings in Additional Resources section.
Watch the Lecture

Click on the Launch button to start
Take the Quiz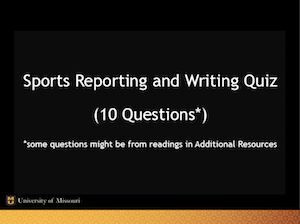 Direction: Some of the questions might from the readings in Additional Resources below

Click on the Launch button to start
Lesson Resources
Lecture Script: Download it here
Printable Quiz: Sports Reporting and Writing
ASNE Classroom Resources
Lessons: Sports Reporting and Writing
Additional Resources
Tony Rogers, About News: "The different kinds of sports stories"
Washington Post, Newspapers in Education: "Sports section"
Dinah Mack & Holly Epstein Ojalvo, New York Times: "Getting in the game: Modeling descriptive writing on sports reporting"
Michael Gonchar, New York Times: "News Q's: Raw talent and college sports mix at Culinary Institute of America"
Jonathan Olsen, Katherine Schulten & Shannon Doyne, New York Times: "Skills practice: Writing effective openings"
Molly Yanity, MediaShift: "How to teach sports journalists to get out of their comfort zone"
Joe Gisondi, On Sports: "Tips for teaching sports writing"
Joe Gisondi, Sports Field Guide: "Tweet like a journalist from live sports events"
Joe Gisondi, Sports Field Guide: "Quick takes: Avoid clichés like the (zombie) plague"
Adrian Room: "Dictionary of Sports and Games Terminology" (PDF book)