Story Ideas Training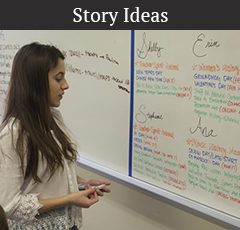 About this Lesson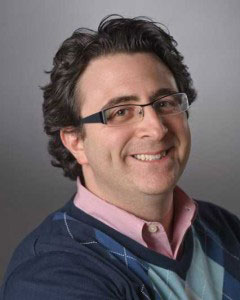 The story is the currency of journalism. Generating them is at the heart of what journalism does. Without story ideas, we have no content. Even in today's media atmosphere with newsrooms aggregating content, the idea of what a story is has to come from somewhere. Most original stories that the media produces are the result observation of data, incidents, trends or statements. What they have in common is they started as an idea.
What you will learn
After completing this unit, you should be able to:
• Identify ways to find stories
• Develop story ideas by audience
• Define the types of stories
• Map out a story's path
• Use the Maestro method to develop a story's presentation
• Know how to build a beat
How the lesson works
First of all, this is an asynchronous lesson unit, which means no live events are scheduled for this lesson. You can complete learning activities at your own pace whenever is convenient for you. Despite the asynchronous nature, the learning tasks are organized to help you succeed.
To be successful in this unit, please complete the following tasks:
• Watch the lecture.
• Take the quiz to test your own understanding.  This will help you to strengthen the concepts you just learned.
• Optional: Due to the amount of content to be covered in a single unit, we encourage you read these additional resources. Some of the quiz questions might come from the readings in Additional Resources section.
Watch the Lecture

Click on the Launch button to start
 Take the Quiz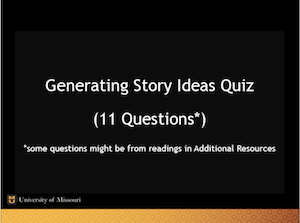 Direction: Some of the questions might from the readings in Additional Resources below

Click on the Launch button to start
Lesson Resources
Lecture Script: Download it here
Printable Quiz: Generating Story Ideas
ASNE Classroom Resources
Lessons: Generating Story Ideas
Additional Resources
BBC: "Original journalism: Finding stories"
Steve Buttry, The Buttry Diary: "Finding and developing story ideas"
Kenna Griffin, profkrg.com: "12 tips for finding story ideas"
Missouri School of Journalism, "Finding good story ideas"
Tom Huang, Poynter.org: "10 ways to find stories other journalists are missing"