Broadcast News Producing Training
 About this Lesson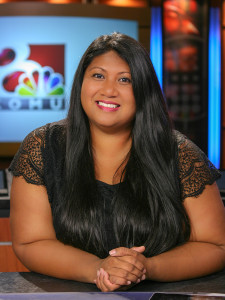 TV news producers are in high demand. While there are plenty of people who want to be in front of the camera, the real decision-making positions are behind the scenes. The producer has many duties, which include deciding the order and length of each story within the newscast. Even thought it's a big team effort to build a newscast, ultimately producers decide what the audience gets to watch.
What you will learn
After completing this unit, you should be able to:
Identify the basic parts of a newscast
Put stories in order that will make sense to the viewer
Learn the basics of writing teases and headlines
How the lesson works
First of all, this is an asynchronous lesson unit, which means no live events are scheduled for this lesson. You can complete learning activities at your own pace whenever is convenient for you. Despite the asynchronous nature, the learning tasks are organized to help you succeed.
To be successful in this unit, please complete the following tasks:
• Watch the lecture.
• Take the quiz to test your own understanding.  This will help you to strengthen the concepts you just learned.
• Optional: Due to the amount of content to be covered in a single unit, we encourage you read these additional resources. Some of the quiz questions might come from the readings in Additional Resources section.
Watch the Lecture

Click on the Launch button to start
 Take the Quiz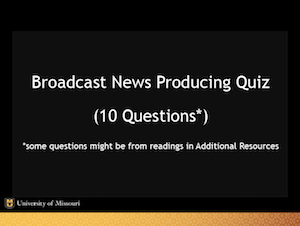 Direction: Some of the questions might from the readings in Additional Resources below

Click on the Launch button to start
Lesson Resources
Lecture Script: Download it here
Printable Quiz: Broadcast News Producing
ASNE Classroom Resources
Lessons: Broadcast News Producing
Additional Resources
Diana Marzalek, TVNewsCheck, "Want to break into TV news? Think producer"
Michelle Emard, Poynter, "Producing Solid Newscasts"
Deborah Potter, Advancing The Story, "TV news producing tips"
WBA Newsroom, "Tips for writing news promos and teases"
Roy Peter Clark, Poynter, "Missing the great game story lead"