Feature Writing Training
About this Lesson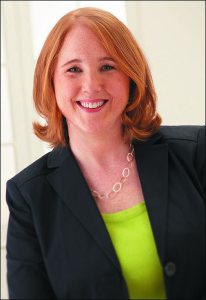 Feature writing calls upon some of the same skills used in news writing, especially reporting and interviewing. But to create an engaging feature, writers must build upon those skills by utilizing storytelling methods often associated with fiction writing, such as description, character and dialogue. There's a reason why this works. A well-told story invites in readers. Through the story, readers see the experiences of another person or place, a process that creates emotion, meaning and understanding. In other words, these storytelling techniques help writers construct memorable features that make an impact.
What you will learn
After watching this video, you will understand several storytelling techniques for feature writing, including:
The importance of detail
Finding a theme or focus
Establishing setting and character
Using dialogue and action
Using descriptive language, similes and metaphors
How the lesson works
First of all, this is an asynchronous lesson unit, which means no live events are scheduled for this lesson. You can complete learning activities at your own pace whenever is convenient for you. Despite the asynchronous nature, the learning tasks are organized to help you succeed.
To be successful in this unit, please complete the following tasks:
• Watch the lecture.
• Take the quiz to test your own understanding.  This will help you to strengthen the concepts you just learned.
• Optional: Due to the amount of content to be covered in a single unit, we encourage you read these additional resources. Some of the quiz questions might come from the readings in Additional Resources section.
Watch the Lecture

Click on the Launch button to start
 Take the Quiz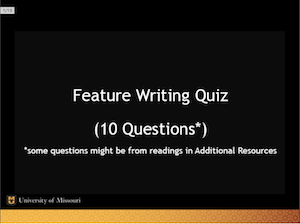 Direction: Some of the questions might from the readings in Additional Resources below

Click on the Launch button to start
Lesson Resources
Lecture Script: Download it here
Printable Quiz: Feature Writing
ASNE Classroom Resources
Additional Resources
Terry Gross and the Art of Opening Up
By Susan Burton
The New York Times Magazine
50 Writing Tools: A Quick List
By Roy Peter Clark
Write Choices: Elements of Nonfiction Storytelling
By Sue Hertz
Book excerpt, Chapter 1
How Tom Wolfe Became Tom Wolfe
By Michael Lewis
Vanity Fair
Omission
By John McPhee
The New Yorker
51 Ways to Improve Your Writing
By Mike Sager
Examples of iconic feature stories:
Consider the Lobster
By David Foster Wallace
Gourmet, 2004