Media Literacy in 2018: Top Five
One of the most exciting aspects of weaving media literacy instruction into the classroom is the rich source material that we are able to glean from news and entertainment media, pop culture and social media. It can also feel overwhelming to try to keep our instruction on pace.
When Beyoncé dropped "Formation" on Feb. 6, 2016, and the next day gave a Black Panther-inspired performance during the Super Bowl halftime show, there was backlash on social media and from political pundits. I quickly created an essay assignment asking students to consider historical context and the rhetorical situation, and analyze the video and the responses. The assignment was a success—I went on to write about it for this website, and give a presentation about it at national and local conferences.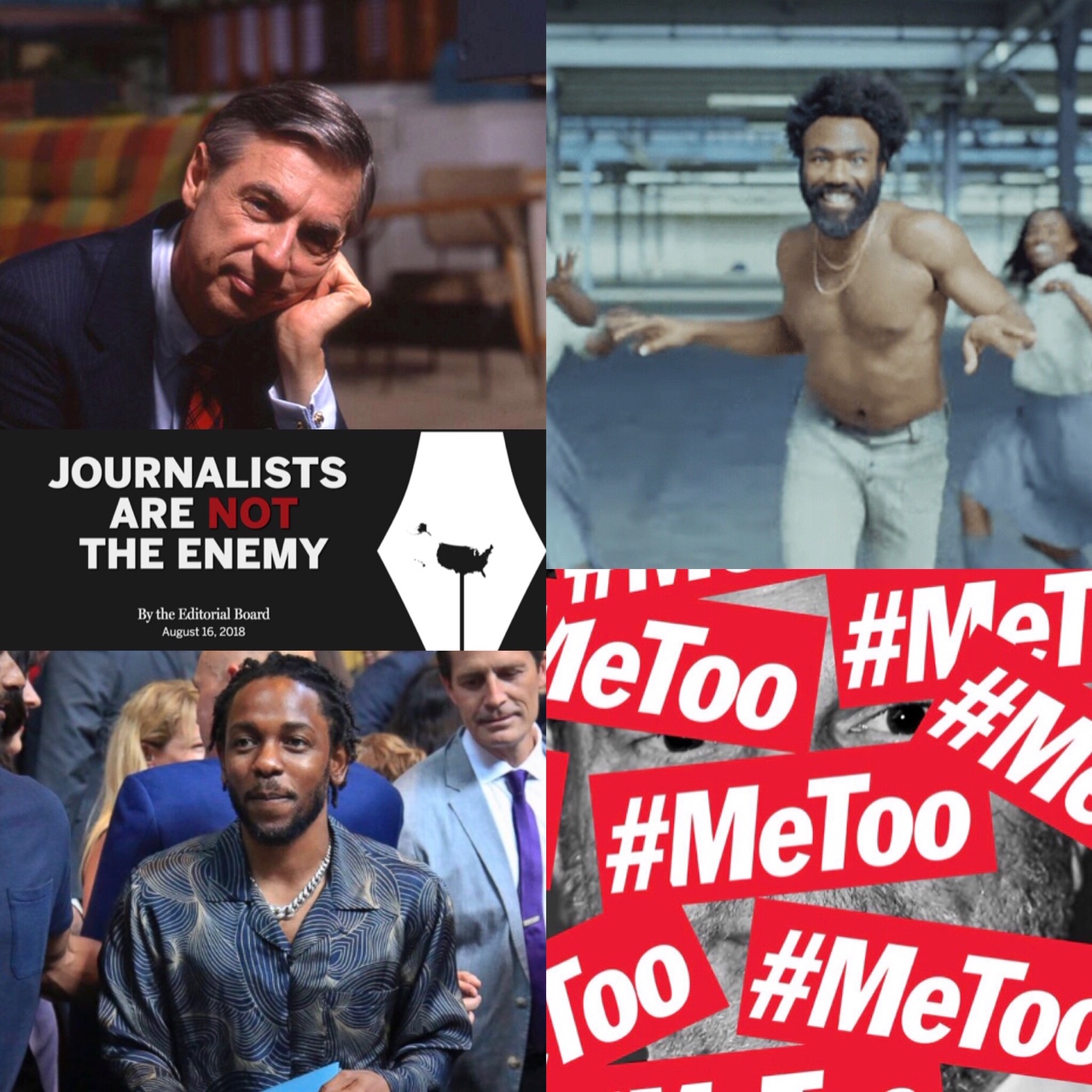 One year later, my students hadn't even heard of the video. Trying to recreate lessons that were created in the moment of a pop culture phenomenon feels much like trying to shove a square peg in a round hole, and the meaningfulness is diluted. However, as educators, we can take the lessons we learn (from collecting solid resources to assessing what worked/didn't work), and keep our classrooms open to current topics. 
Integrating media literacy into the classroom doesn't always include an elaborate lesson plan or essay assignment. Sometimes it's powerful to simply acknowledge major media stories, and help guide students toward good sources to help them navigate information.
Here are some of the cultural flash points that provided important conversation starters in my classrooms in 2018:
Note: I teach college freshmen and sophomores, so while these topics are broadly appropriate for high school students, your mileage may vary in terms of the depth and specifics of difficult topics.
#MeToo, Pulitzer Prizes and Supreme Court Hearings
It has been difficult to avoid the heaviness of the news cycle surrounding sexual assault and misconduct over the last year. When #MeToo and #TimesUp dominated social media, investigative news and awards shows, it was sometimes surprisingly manageable to bring the discussion into the classroom by providing historical context. Like so many of these overwhelmingly difficult conversations, we are well-served by giving our students a history lesson before delving into the now. Rebecca Solnit's "Cassandra Among the Creeps" is a staple essay in many of my classes. With #MeToo, the conversation often turned to who is believed. I tried to point to the good journalistic techniques that the reporters adhered to (which would win them the 2018 Pulitzer Prize in Public Service). 
During the Brett Kavanaugh hearings, some incredible articles were written about rape culture in '80s films, which Kavanaugh had playfully cited in his testimonies. Opportunities for media literacy education are everywhere we turn, and can help us navigate subjects that sometimes seem too big to bring into the classroom. 
As a general rule, I try to share brief NPR news clips with students about controversial topics, so they can hear calm, balanced, fact-based reporting and interviewing.
Resources:
"This is America," by Childish Gambino
"This is America," by Childish Gambino (Donald Glover), was another surprise song/video drop on Saturday, May 5, 2018 (the video is directed by Hiro Murai). I remember watching it over and over again, and being frustrated that classes were over and I couldn't make a lesson out of it. I gave my African American Literature class the option to stay after their scheduled final to watch it, and handed out a packet of resources so they could fully analyze the historical references. I presented the video and resource packet to Diversity in the Media this past fall. Many students were captivated, and got excited about analyzing the images and themes. The best of these pop culture artifacts demand an understanding of historical references and force audiences to consider perspective and meaning beyond face value. 
Resources:
"Won't You Be My Neighbor?"
The documentary "Won't You Be My Neighbor?" is a deeply moving profile of Fred Rogers's life and his legacy, "Mister Rogers' Neighborhood." Rogers planned to become a minister, but he found his calling in creating children's television, because he "hated" TV, and how children's television in particular was not concerned with nurturing or educating children. While the film is a portrait of the man himself, it also includes a vast array of clips from "Mister Rogers' Neighborhood." While those of us who grew up with Mr. Rogers certainly watch this film (and cry a lot) with added nostalgia, many of my students who had no prior knowledge of the show were moved by the possibilities of what television could be, and how powerful Rogers's dedication to representation and inclusion was. 
Resources: 
"The Boston Globe" Organizes Free Speech Editorials: "#FreeSpeech – Journalists are not the enemy"
I've noticed over the last two years that many of my students have become more disengaged with the news. A combination of media fragmentation and controversy saturation, along with a rising tide of anti-press sentiment, have caused a level of apathy that I can't help but sympathize with. However, bringing up the phrases "fake news" or "the media is the enemy" typically results in a collective knowledge of the rhetoric. As with most controversial topics, my goal is always to ask the students to take a step back, take a deep breath and try to discover more of what they don't know in order to have calm conversations. Reviewing the actual powers and limitations of the First Amendment is a good start. In 2018, "The Boston Globe" organized an editorial-writing campaign in response to the increasing rhetoric about journalists being the "enemy of the people." Hundreds of newspapers around the country responded. Ensuring that our students understand the First Amendment, particularly the bit about the freedom of the press, is essential. This can also help open up conversations about how social media—Twitter in particular—has reshaped the relationship between government officials, the press and the public. 
If you have time in class, or want to give students further recommendations, "The Post" (2017) and "All the President's Men" (1976) are excellent films that give even more context to the historical relationship between the press and the White House.
Resources:
Kendrick Lamar Wins the Pulitzer Prize
Kendrick Lamar made history by winning the Pulitzer Prize in music for his album "DAMN." in 2018. I always try to weave the Pulitzer Prize winners into my journalism and mass media classes, and this year was no exception. Lamar's win was significant: he is the first non-classical or jazz artist to win the prize. This opens up questions about what we typically think of as art, and what that means. We can have discussions in the literature/mass media classroom about commercial fiction vs. literary fiction or high art vs. pop culture, and how many of those categories serve to uphold sexist and racist notions of what we consider art in America. Lessons about rap and hip-hop also helps students learn everything from American history to poetry analysis. 
Resources:
In a couple of semesters, many of these news stories will be completely off our students' radars, but the general topics certainly won't be. If we can be open to staying responsive to current media stories in our classrooms, and keep building an arsenal of resources to help guide conversations, we are serving our students the best we can by promoting research, analysis, critical thinking and, as a result, civil discourse. 
Leave a Comment