Eclipse 2017: Staffs Share How They Covered The Event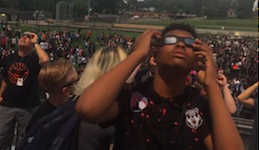 On Monday, August 21, 2017, a total solar eclipse went from sea to shining sea across our nation. It started in Lincoln Beach, Ore., and made its way to Charleston, S.C. This historical event was an opportunity for scholastic journalists to shine.
Rolla, Missouri
Mary Gillis of Rolla High School is the adviser for the school magazine, online newspaper and yearbook. Her eclipse experience was as diversified as the publications she advises.
"In May, I wrote a grant that provided funds to take my news staff to Jefferson City's Capital Solar Eclipse. NASA was there to do a live broadcast of the eclipse and also had a travelling exhibit 'Journey to Tomorrow.' It was also the 100th birthday of the Missouri State Parks, so they had an exhibit as well," Gillis said.
Gillis and her team didn't just go to Jefferson City for the exhibits. They created news packages via multiple platforms.
"I had a social media team, a team for our online newspaper, a magazine team, and a yearbook team," Gillis explained. "The social media team broke into two maestro teams and did a package that highlighted a different part of the story. Instagram did 'dogs of the eclipse' and interviewed folks who brought dogs. Twitter did feature highlights of people who travelled far to come to the totality in Jefferson City. Our magazine went to press with a front page and four-page center feature with interviews from NASA."
Gillis and her team in Jefferson City had a unique experience, but her students who remained in Rolla had eclipse news to cover, too.
"Our district in Rolla held classes and bought eclipse glasses (with signed parental consent required) for all students. From elementary school on up, I sent a team to cover what teachers were doing with their classes. At the high school level, we released everyone from 12:45 to 1:30 to view the event together on the football field," Gillis said.
Columbia, Missouri
Robin Stover advises the "Bearing News" at Rock Bridge High School.
"Our school allowed students to be excused if they wanted to stay with family. For everyone else, the district provided solar glasses. We posted a video on 'Bearing News.'"
St. Charles, Missouri
Michele Dunaway advises "Howelltonian" yearbook, "Spotlight" newspaper and FHHSToday.com.
"We all took a trip to the football field to watch the eclipse. Our district bought us all glasses (all schools went outside). At our school, we had QR code scavenger hunts where people could use their phone to win prizes. The teachers wore special eclipse t-shirts, and one of the science teachers had set up a telescope so we could see it through that. We were able to see totality, and a cheer went up on the football field. It was cool. It will be a page in our yearbook."
St. Louis, Missouri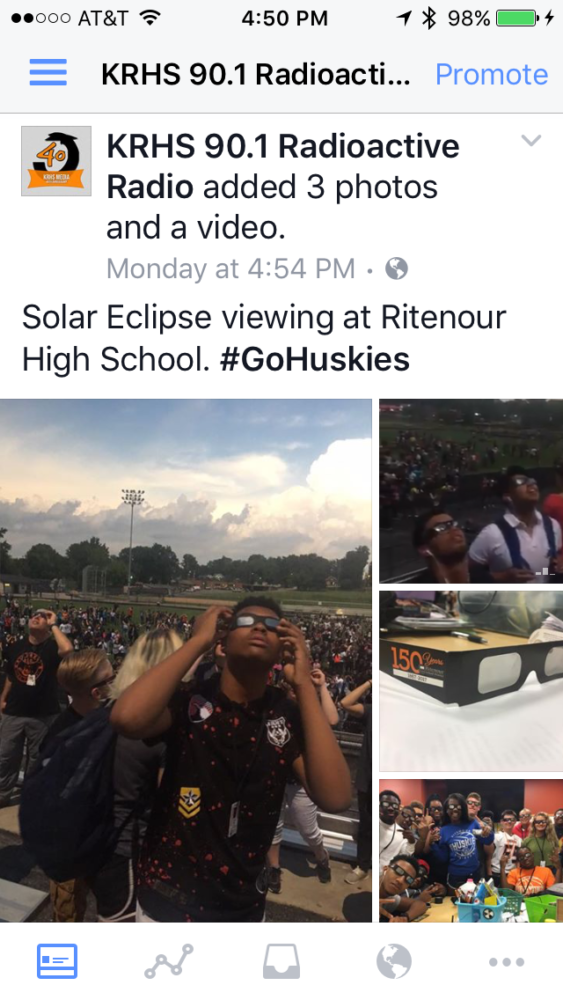 Jeremy Housewright advises the "Melarius" yearbook at Ritenour High School. He, along with broadcast adviser Jane Bannester, made sure the solar eclipse was covered on many platforms.
"Ritenour allowed students to go out to the football field during sixth hour. It was really enjoyable. My yearbook students and myself were taking pictures, as we are doing an entire spread on the eclipse," Housewright shared.
Bannester was just as excited about the event.
"We had two students in charge of complete video coverage of the eclipse, and we had another student who focused on interviews. We also used photos and video from multiple students from the day," Bannester added.
Yet, with all the warnings about camera filters, Bannester had her concerns, which led to some serious DYI moments.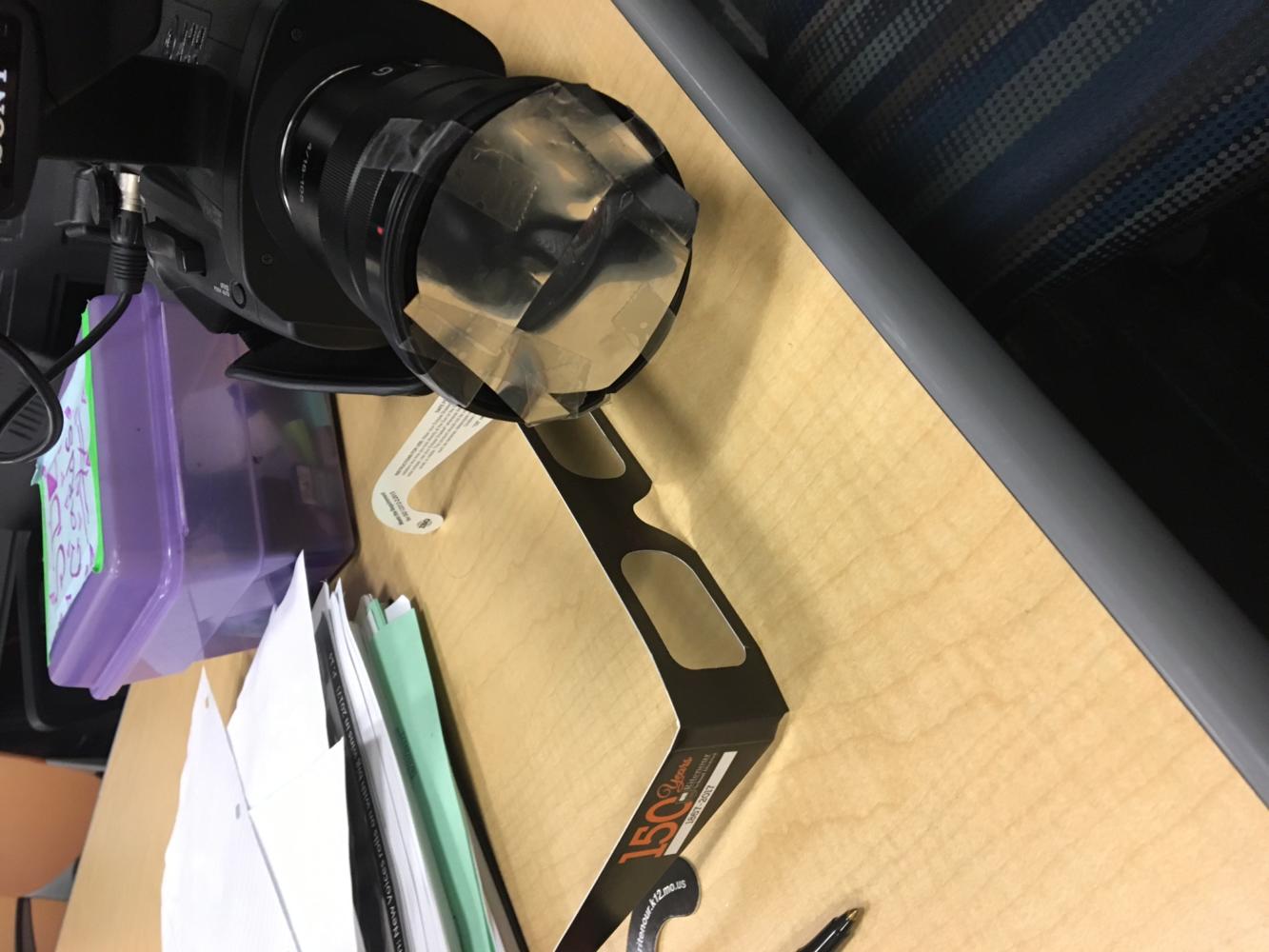 "Students worked on a DYI for a camera filter. We started a month prior looking and talking with local photo shops. Basically, we were out of luck in purchasing the filter for the events. We also did a lot of investigating of rumors about when and how we could use our cameras. We had a lot of stuff flying around the students on what they heard you could or could not do. NASA was the most accurate site we relied on," Bannester said.
Washington, Missouri
Michelle Turner is the "Blue Jay Journal TV" adviser.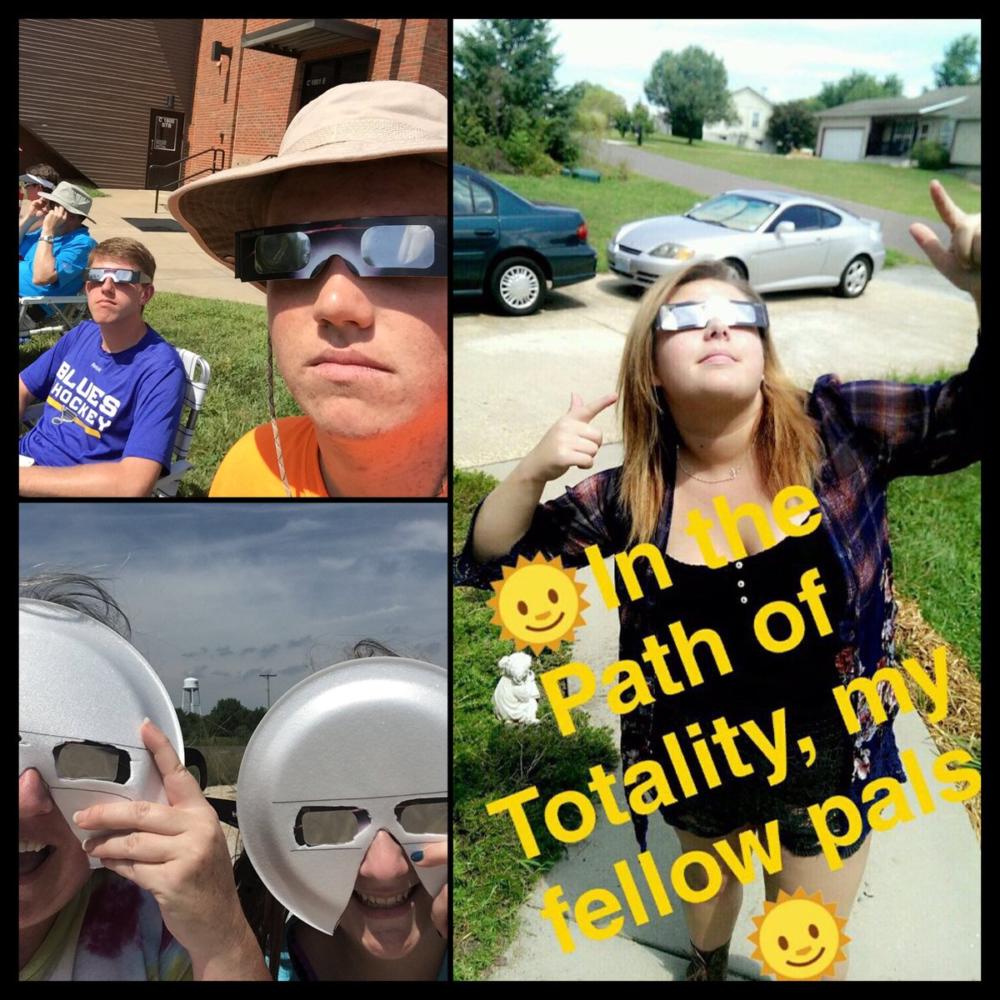 "We were in the direct path of totality, so our school district cancelled school for the solar eclipse. BJJTV students took photographs on their own and we created photo collages to post on our social media platforms. Some students on staff also chose to blog about it for our website, too. Even though we weren't together physically, many of us were together in spirit. Even as I was watching this event with my own child, staff members were sharing images and reactions with each other. I've told my current staff that on April 8, 2024 we need to have a BJJTV staff reunion when totality comes back to Missouri, but this time it's a little more south of us. Several of them are on board with the idea, even though many of them will be out of college by then. Only time will tell."
Tupelo, Mississippi
In Tupelo, Miss., the eclipse reached 93 percent, but that didn't stop Tupelo High School students from enjoying and reporting about the event. The "THS Album"yearbook staff is advised by Shari Chumley. She, along with WTHS adviser Brandon Bishop, had students in the field.
"We started school about two weeks before the eclipse. Our local McDonalds provided eclipse glasses to all staff and students," Chumley said.
Her staff provided the photography and captions, while Bishop's staff covered the event for their television show.
University City, Missouri
Mary Williams of University City High School advises "U-Times."
"University City School District did not cancel school, instead we embraced the solar eclipse by providing every student with safe viewing glasses. Online newspaper student Kaya Blount covered the event on the ground without pointing her camera to the sky throughout the event. She captured several impressive photos that were posted on our site."
Webster Groves, Missouri
Donald Johnson of Webster Groves High School advises Echo newspaper online. As of the last week of August, Donald and his staff were still trying to sift through all their material from the eclipse.
"We are sorting through everything, but we are covering the eclipse.  We posted a photo of the diamond ring on Instagram, Twitter and Facebook.  We're planning some video for our newscast, and we're using our photos for a centerspread in September."
View Comments (3)