From Sweden to Missouri – MUJW has International Appeal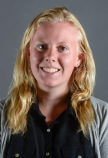 Sophie Olsson Barnekow is starting 11th grade at Stockholm International School in Sweden. Last year one of her friends from the USA told her about the Missouri Urban Journalism Workshop, MUJW. Once Sophie looked at the website, she decided to apply.
"When I found out I was accepted, I didn't believe it at first. The application said that the workshop was mostly for juniors and seniors, so I thought I had a very slim chance," Olsson said. "I was so overwhelmed with joy because it was something that I had achieved all by myself."
Sophie feels the MUJW experience was a challenge, but it taught her many lessons.
"Even though the days were intense, we utilized every minute we had and learned so much by actually doing our own interviews and writing our own stories. I got a very good insight of a journalist's career in just nine days."
Sophie's interest in journalism only deepened at MUJW and she's looking at it as a potential career.
"I really would like to get a Masters in Journalism at university. However, I would also like to study International Relations at university since I'm interested in politics and current issues in the world. I would like to strive for a journalistic career or some sort of role in politics."
In the end, Sophie feels that her time in Missouri at MUJW also helped her form important bonds with students who share similar interests.
"Throughout the long days, I spent so much time with the people in the workshop that it made it so much more enjoyable. I've made many long-lasting friendships."
To see Sophie's work, along with the other 2016 MUJW participants' work, visit this site:https://mujw2016.wordpress.com/
Leave a Comment