Lesson Learned: Check Your Default Images
The community that is served by our high school newspaper in Rolla, Missouri has buried five alumni in the past two months because of heroin overdose. Most of those students graduated from the high school in 2012 and 2013. Back in 2011, a reporter for our school publication, ECHO, recognized students who were enticed by the drug and reported the growing problem of heroin use in our community in our school publication. The staff opted to publish the story both in print and online.The 2011 reporter, in mourning after the most recent loss, went to the school's online publication, www.rhsecho.com, and shared the archived story from 2011 on Facebook. She shared the story around 11:30 on Monday night. When I woke up on Tuesday morning, her post and the attached ECHO story had been re-shared 140+ times. This should be great news, except, when the archive story shared from our website, it linked it to a photo of a current athlete (the student who was named Athlete of the Month a couple of months ago), so the share looked like this:
Obviously, this caused confusion, embarrassment for the family of the soccer player, rumors, etc.  As the adviser, I began receiving texts and emails from others who were concerned about this misperception. I ran to the office and contacted our host, and they were very quick to respond and help by setting a new featured image with just our flag and any shares that came directly from the website thereafter did not have the misleading image.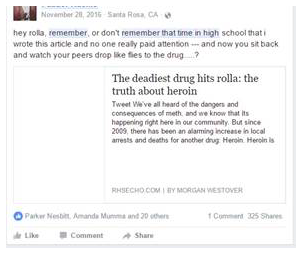 Unfortunately, any shares that happened before we fixed it and subsequent shares from other people's posts could not be controlled in any way. By the end of the day, there were 325 shares from the original post and who knows how far it went from there.
In an attempt to explain this situation, the editorial board decided that it was best to issue an apology. They wrote one and we posted it online. It read:
ECHO issues apology for misleading image
November 29, 2016
Filed under News
In 2011 RHS ECHO covered the story of the growing problem of heroin and other drugs in the community. In an interview with representatives from both the Rolla Police Department Street Crimes Unit and the Rolla Police Department Special Ops Command Patrol Division, we reported Rolla's efforts to educate and eliminate the use of these deadly drugs in our community. The story can be read on our website by clicking here.
Recently, the story has been re-shared on social media. As this archived story was shared from the website, a photo of a Rolla High School athlete was attached to the share setting. The photo is in no way connected to the story and the technical glitch that caused this misleading information to be shared has since been fixed.
We deeply apologize for confusion and any harm that this inadvertent and misleading image may have caused. As journalists in training, we are aware of the impact of our words and images and the image was in no way intended to be linked to this story. The Society of Professional Journalist's Code of Ethics requires that we hold ourselves accountable for this error. Please accept our apology.
We hope that you will read the story and feel confident in sharing the message of the work that our local law enforcement officers are battling in our community as that technical issue has been solved.
Thank you for reading ECHO.
There are lessons to be gained from this experience. Staffs should be aware of how default image settings are set for each webhost. When stories that do not have images featured in them, what photo is attached by default in the various social mediums.When possible, it is best to set that default image to the flag.
Our webhost determined that it was likely that back in 2011 the story was linked to an image that over time had been deleted – perhaps in a cleaning of the media file. It is important not to do that because according to our web host, when an older story that had a featured image set when originally published, but the image is later deleted and the story is not, it could cause the default image setting not to work properly.The original story had nothing to do with an overdose. There was no mention of any specific death. Instead, it was an interview with our local drug task force about the complications the drug is creating in our community, but the image placed just beside the headline in that way, like clickbait, caused people to react and speculate without taking time to open the article.
As a legitimate news source for our community, we have to ensure that this does not happen. One student told me that his mom and dad came into his room to wake him up and tell him that one of his best friends (the soccer player) had died of an overdose.
Leave a Comment