Please, please, may I have a drone?
I'm a kid at heart. When my mom asked me what I wanted for Christmas a couple of years ago, I said I wanted a drone. Yes, at 42 I'm still asking for a toy.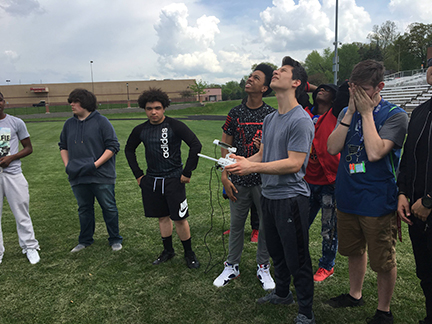 I want to point out that this toy is different than a new Canon DSLR, a 360 camera, or a GoPro. What I have at my hands is a practically a flying lawnmower. Can you imagine handing that to 16 year-old? I can! However, we have to keep in mind there are some guidelines to follow before doing so.
There is a reasonable explanation for all the laws and rules of drone usage. Knowing them is central to any teachers' preparation. Matt Waite is the guy who can tell you all about it.
Waite is a professor at the College of Journalism and Mass Communications at the University of Nebraska-Lincoln and the founder of the Drone Journalism Lab at the college. He says, "They are not toys. They are not something you can just run down to Best Buy, slap down a credit card and roll into your curriculum."
He's right. In August 2016 the Federal Aviation Administration published new regulations for the operations of all drones weighing less than 55 pounds. Drones are also called "unmanned aerial vehicles" and "unmanned aircraft systems."
The definition of a "hobbyist" expanded to include the use of UAVs in an educational setting, provided it was part of the coursework at an accredited school, specifically including television and film production. See this memo from the FAA on drones in education.
However, what isn't clear is how this applies to scholastic journalism. Are we considered commercial use, or are we hobbyists? Waite wants scholastic journalism programs to know that if a media production is publishing, whether for profit or non-profit, they are considered commercial.
KRHS Media
What if that student is asked to take video for the football team for free football tickets? What if students use the drone for a photograph of the senior class creating the year they graduate as a cover of the school yearbook? Are they still hobbyists?
"If a teacher is flying a drone for class, they are NOT a hobbyist. They are getting paid to fly an aircraft. They must be 107 certified if they are going to do any flying. They can supervise students without a 107 certificate, but the only time they can touch the sticks is to take control of the drone in an emergency," Wait said. "The moment the video or photo ends up in student media, or on a school website or anything outside the classroom, it crosses the line."
Poytner, in association with Google News Lab and DJI, held four camps nationwide to orient professional journalists, journalism educators and students with the basic skills to prepare them to study for the Federal Aviation Administration's Part 107 Drone Pilot certificate.
During the sessions, Waite offered some insight into steps for commercial operators to take to keep your program within the law.
Check your insurance before you fly. The school district officials, who you will need to back you up, should be aware of what the legal responsibilities are for instructors and students alike. Anyone handling the aircraft needs to be versed in these responsibilities before an accident occurs, as well as the school district. Your school district needs to be on your side should an incident occur.
Waite urges others to consider insurance first before all else. "The better way to look at this is what happens if that student crashes the drone into the quarterback, permanently injuring him in the process? Who is going to be held responsible? The reality is no one will really care until it all goes wrong. And then it will all go very, very wrong for school districts doing this kind of thing."
Be aware of state and local laws. The federal government regulates most airspace laws, but recently new regulations are being considered to hand control over to local and state law enforcement. With many local and state legislators proactively putting laws in action regarding privacy laws for individuals and businesses, you should be aware of your state and local ordinances.
Consider taking the Part 107 Drone Pilot Certification test:
Must be at least 16 years old.
Must pass an initial aeronautical knowledge test at an FAA-approved knowledge testing center.
Must be vetted by the Transportation Safety Administration, TSA.
Understand basic operation guidelines using the FAA website training: FAA Become a Pilot
Know your airspace: Use the FAA Flight App "B4UFly" to review flight restrictions and requirements for your current area.
In the end, Waite suggests that your strongest move in purchasing a drone is not to compare models, but to do your homework. Consideration for licensing, insurance, policies, procedures, etc. need to be considered long before you buy.
"The issue is not about when things go right, it's what happens when it all goes wrong. Drones can be safely rolled into your curriculum and become a truly great tool for storytelling. But it's not like buying a new camera. There's a lot more to it and you have a responsibility to do that homework before you fly," Waite said.
Matt Waite runs one of the premier drone journalism college programs. Visit his website for more information.
Leave a Comment