Separating Work and Home
Is this even possible or applicable for every teacher?
This is the first question that pops in my head as a I begin to write this article. As I enter my fifth year of teaching, I feel I have largely been able to create this separation in my life, but when I typically leave my classroom at 4 p.m., I look at the teachers' vehicles still sitting in the parking lot, the teachers who will be here late into the evening for practices and meetings– well past a normal dinner hour with family. I think of the countless journalism teachers I have met who have mentioned many late hours with their students on top of the countless grading they regularly find themselves consumed by.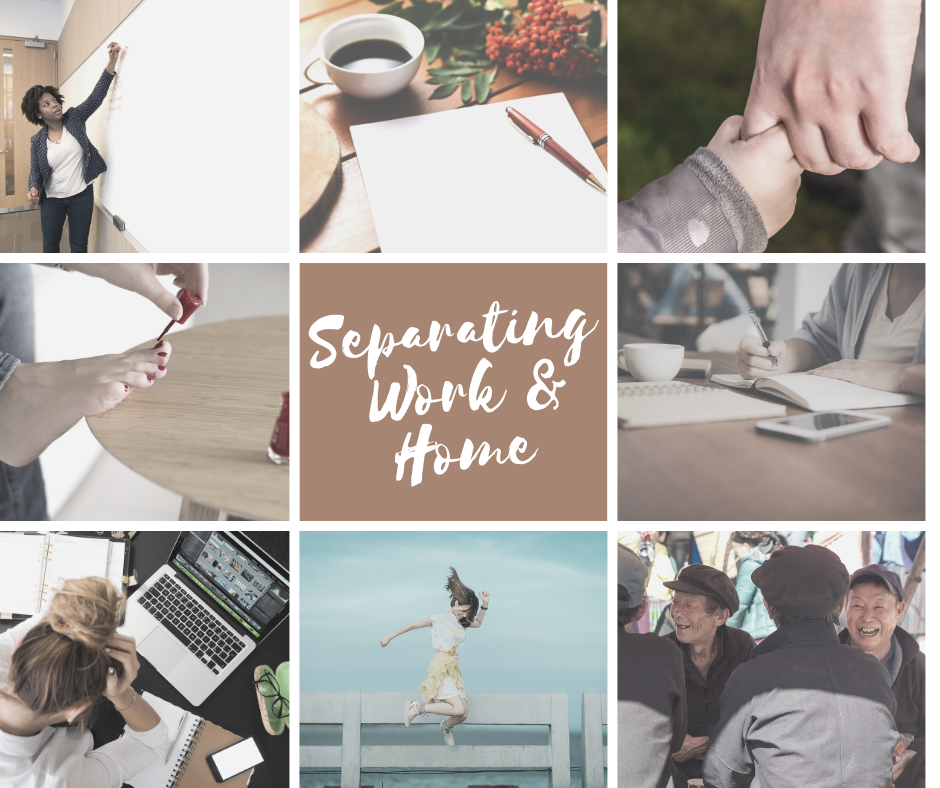 I do not have to spend an exorbitant amount of space explaining how much work teachers are expected to complete in such a little amount of time because anyone in the teaching field already knows. As the saying goes, I would simply just be preaching to the choir.
One philosophy that has blossomed for me in my time since becoming a mother however, is just how important separation of work and home is.  Below, I have tried to pull together some tips for how to make this possible, and I hope they will be applicable to all who read this.
Have at least one quit day and one day of the weekend. There needs to be at least one day you quit at the bell, no excuses. Maybe it is a scheduled day every week, or maybe every week requires different planning and preparation to work that day in, but at the beginning of every week, you need at least one day where the work stops at 3:30. Maybe you spend the day reading all evening, enjoying dinner out with some friends, or just cuddling your children, but this is your protected day. This is the day that keeps you stable and you know you get to look forward to every week.
Time during weekends should also be protected because they are precious time for teachers to recharge. However, this is very difficult when you are juggling extra duties that require your presence beyond classroom hours. However, make sure you are giving yourself one day of the weekend at least. If you have an event Saturday, give yourself Sunday where you do not touch anything school related. If you had to give up an entire weekend for school events, be sure to give yourself a complete separation from work the next weekend.
Do everything possible to keep work at work.While I know this isn't always possible, fight for this separation. Go in early if you can, stay a little late if you can. Keeping the two separate has helped me be the best teacher and mother I can be. I fall behind in grading, sometimes I don't always get to look over that essay I said I would look over, and maybe I didn't get to make all the copies I needed to make, but it has to become tomorrow's agenda. When I don't get this separation, I find myself exhausted, in a constant state of drowning, and feeling like I am failing in my professional and personal life.
Change how you grade. Every day, I try to remember the age-old saying, "Work smarter, not harder." I work hard to apply this to grading. Can I construct a writer's workshop or peer editing day where I can work in small groups or one-on-one with students, provide feedback, and grade writing assignments right there with the students? Do I really need to have everyone write their entry slips on a slip of paper and turn it in or can I just have them write it in dry erase marker on their desks, walk around, and give the points right then and there? Brainstorm with other teachers and look at how you can tie grading time into collaborative time with students.
You deserve YOUR time. Teaching is an incredibly difficult job. We are so often conditioned to think of ourselves as selfish if we don't take work home with us. How dare we sit and read a book at 7 p.m. at night when we are behind on grading papers?
Stop this.
There are very few professions where people take their work home with them. In my teacher contract, I have contract hours with the school. I have a designated plan time. That contract time does not include 8 p.m. on a Tuesday night at home. You are your best self when you have your time and when you enjoy that time. You are not a robot, and you should not feel guilty when you create an end time. Creating an end time is healthy, not narcissistic.
You're going to have bad days. Have a plan on these days. The bad days are inevitable. Plan your insurance. If I had a particularly stressful day at work, I swing by the local coffee shop where I am greeted by love and smiles by the employees. This place makes me happy. Have a happy retreat when everything goes wrong. Have the plan in place.
Delegate. Does your school provide student service workers? Use them to make your copies. Do you have editors? Give them clear tasks. You should not have to manage everything. The best traits of successful leaders I have worked with are leaders who select strong leaders, who invest and encourage those leaders, and who trust those leaders. Even if they do not have an editor title, this student can specifically manage organizing receipts; this student can manage the organization and cleanliness of equipment; this student can organize weekly teambuilding activities. The more people on board, the more you can conquer.
Laugh. Do not ever stop laughing. Laugh with your kids, laugh with your coworkers, laugh with yourself. See something funny every day. I always like to start my mornings with a funny, light-hearted book I can easily tackle a couple of pages at a time. Sometimes, in the last five minutes of a class, we will watch a funny YouTube video. We share jokes. I have tested this for myself for the last couple years and I have found my kids and I can always get through the hard times much easier when we take the time to laugh together. If the only time people interact with each other is in stressful situations, eventually they will come to associate those people with stress. If people enjoy most of the time they spend together, stressful moments become about resilience rather than surrender and frustration.
Leave a Comment