Join
Students and advisers,
sign up
now to receive free email updates about contests, scholarships, training, helpful news and more!
Poll
Loading ...
February 19, 2016 – Alabama State Scholastic Press Association Convention
February 21, 2016 – Scholastic Journalism Week begins
February 24, 2016 – Southern Illinois School Press Association Winter Conference
February 29, 2016 – Colorado Student Media Association Capitol Hill Press Conference
March 16, 2016 – Columbia Scholastic Press Association Spring Scholastic Convention
April 14, 2016 – JEA/NSPA National High School Journalism Convention
June 19, 2016 – CSPA Summer Journalism Workshop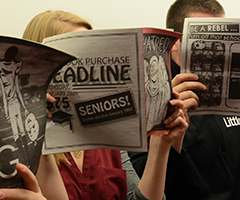 With some news programs, magazines and websites blurring the line between news and satire, the way viewers consume news is changing how they make informed democratic decisions. "Everything we watch affects the way we think," Michelle Ciulla Lipkin,  executive director of the National Association for Media Literacy Education, said. "With the blurred line of entertainment and news in "real" news, the satirical news shows really play an important role in how we get our information."... Read More »
Virtual reality is taking the journalism world by storm and thanks to cheaper equipment and apps, it could be coming to a classroom near you. As a news anchor at KOMU 8 in Columbia, Missouri, and later as a chief storyteller at Veterans United Home Loans, Sarah Hill has spent most of her life telling thought-provoking and emotional stories to viewers. Hill decided to venture into virtual reality after searching to find a solution for Veterans who were unable to physically travel to see their m... Read More »
The great horizontal versus vertical video formatting debate has been taking place on the Internet since the birth of the first smartphone. Now, publishers and editors who once forbid "amateur" vertical video are starting to change their views. Thanks to the introduction of smartphone apps like Snapchat and Periscope, the push for vertical video is at its highest ever. At the University of Missouri's School of Journalism, the Donald W. Reynolds Journalism Institute's Futures... Read More »
The American Society of News Editors and the Journalism Education Association in partnership with the Donald W. Reynolds Journalism Institute launched a free news literacy curriculum for English/language arts, science, math and social studies in September 2015. How are you using these model news literacy lessons in your classroom? Email us at [email protected] and give us your feedback. To learn more about the new literacy lessons, please read this article or link to the lessons at: http:... Read More »
In a world where cameras are everywhere, citizen journalism has transformed how journalists do their job. "Students and even adults have really started to use citizen journalism as a means of bypassing the traditional media gatekeeper," Megan Fromm said. "It can be a really empowering form of communication, a way of saying 'I was here, and this is what I saw' when the 'big media dogs' aren't paying any attention. It has also provided journalists with an array of story ideas, angles... Read More »
View All »
Why do you teach scholastic journalism?
Watch teachers from the 2014 ASNE/Reynolds High School Journalism Institute at the University of Missouri articulate the purpose and value of scholastic journalism.
Journalists around the world are using smartphones and other mobile connected devices to tell stories in new and different ways. Professional journalists are increasingly using smartphone technology to shoot and edit video for their stories. We've compiled some shooting and editing tips from Judd Slivka, an assistant professor of convergence journalism at the University of Missouri School of Journalism and a MobileVideoDIY instructor at the Reynolds Journalism Institute. Five basic mobile journalism tips to remember when shooting video Pros and cons of mobile video editing apps For more tips and a free tutorial on mobile video story-telling, shooting, editing, and publishing, check out the Reynolds Journalism Institute's MobileVideoDIY... Read More »
Tad Bartimus learned firsthand nearly twenty years ago how a mentor could change a student's outlook on writing. After a successful career as an award-winning journalist, Bartimus and her husband, Dean Wariner, moved moved to Hana, Hawaii, in 1996. While there, an English teacher asked Bartimus to assist a young student with his junior class essay. The student was in danger of failing the class if he did not complete the assignment Bartimus mentored the student who ended up submitting his story to a writing competition where he won first prize. He also passed the class. With the help of her husband, Bartimus started Talk Story, Write Story in 1998. The one-on-one mentorship program's goal... Read More »
High school students have the opportunity to delve into the world of journalism at the 46th annual Missouri Urban Journalism Workshop this summer at the Missouri School of Journalism. In 1971, Dr. Robert Knight created the workshop, which has turned into one of the longest-running workshops in the nation for high school students. With the help of the Dow Jones News Fund, Inc., the Missouri Urban Journalism Workshop was started to encourage students of all backgrounds to consider careers in journalism. "They definitely get a real taste of what it's like to be a journalist," Anna Romero, MUJW director, said of the workshop participants. Romero said students' writing and interviewi... Read More »
View All »