Enter the Seventh Annual First Amendment Matters PSA Contest
SchoolJournalism.org invites YOU to enter the The First Amendment Matters PSA contest. Over the past seven years of this contest, teachers like Stacy Gerst have used this as an opportunity to create a deeper understanding of the First Amendment with her students. We believe that you can have similar success.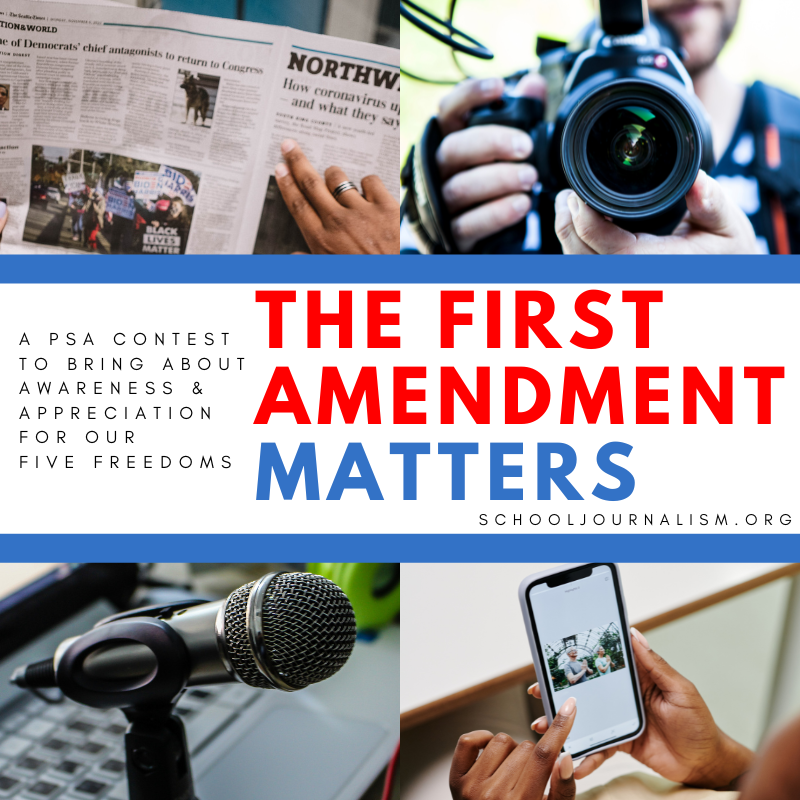 "Where America Stands" found many Americans lack a fundamental understanding of the First Amendment. About one in five (18%) couldn't name one freedom covered by the First Amendment. Of those who could name at least one: 78% could identify free speech, followed by 49% naming religion, 39% assembly, 34% free press, and 14% the right to petition. Just nine percent of those surveyed correctly identified all five freedoms. 
How can we spread awareness about the importance of the First Amendment? The answer is YOU. 
This is the perfect opportunity to spread the message in a PSA about why these freedoms should be revisited, reviewed and kept in the forefront of self expression discussions. It is SchoolJournalism's sincere hope you will not only participate in this contest, but also share your entry with your school and community. 
Do note judges look for PSAs that not only follow the specifications as listed below, but they also look for a PSA that demonstrates a clear understanding of the First Amendment. 
Here are links to examples of winning entries from over the years:
Minarets Press POV: There's No First Amendment
Blue Jay Journal TV Remember Your Five Freedoms
HHS Advocate The First Amendment is a MUST
Blue Jay Journal TV Protect the First Amendment
EagleAir TV Know Your Five Freedoms
Coral Spring HS First Amendment PSA
THE GRAND PRIZE WINNER(s) WILL RECEIVE: 
A total of $100 in Amazon Gift Card(s) for the winner(s) to use at their discretion courtesy of the

East Central College, Union, Mo.

, Journalism and Mass Media Program.

A "prize box" of a variety of goods that may include but is not limited to: T-shirts, office/school supplies, etc. from the

Academy of Scholastic Broadcasting

, the

University of Central Missouri's School of Communication

, the

Reynolds School of Journalism at the University of Nevada-Reno

, and our main sponsor the

East Central College, Union, Mo.

, Journalism and Mass Media Program
Note: In the event of a tie (which has only happened once since this contest started), the award will be divided. Also, at times, a "Runner-Up" has been named. If this happens, they will receive a "prize box" as well. 
SPECIFICATIONS:
Students who reside in the United States may enter individually, or in teams of up to four people (no more than four).

Students may not enter more than one PSA with their name upon the entry.

Students in seventh to 12th grade may enter. NOTE: This is open to home school students, too.

There is no entry fee to enter.

Students will have until midnight Monday, May 8, 2023, to enter.

Each entry will be judged.

All winning PSAs will be listed on the SchoolJournalism.org website and promoted and shared on our social media platforms.

All winning PSAs grant SchoolJournalism.org permission to share, post, or embed their entry.

SchoolJournalism.org will not provide written feedback due to the fast turn-around time involved with judging.

Students may note that judges will not just look at only the technical aspects of video production; they look for PSAs that address the topic of the First Amendment.

PSAs

must

be 30 seconds long from start to finish.

Students will be disqualified if copyright is violated, entry requirements are not met, or it is found out that content used was not written, recorded, created, etc. by the students creating the PSA. Content should be original.

Students must upload their finished PSA to YouTube or Vimeo.

They will need to submit the link

HERE

by midnight Monday, Monday, May 8, 2023.

The submission will include the following information: Student(s) first and last name(s), name and contact phone number and email address for adult who oversaw the project (including and not limited to: teacher, adviser, youth group leader, or a parent if home school), PSA title, and PSA link.

 We look forward to your participation. Our hope is that, win or lose, YOU are increasing awareness, knowledge, and understanding of the First Amendment in your community and across our nation.
Leave a Comment