Five Journalism Advisers Share Tips for Teaching During COVID-19
Quarantines, Zooms, Hybrid Schedules, Virtual Classrooms and Meet Ups, oh my! To say teaching during COVID-19 has been a challenge would indeed be an understatement. However, five Journalism Advisers from the Midwest have offered their tips for surviving and at times thriving under these circumstances.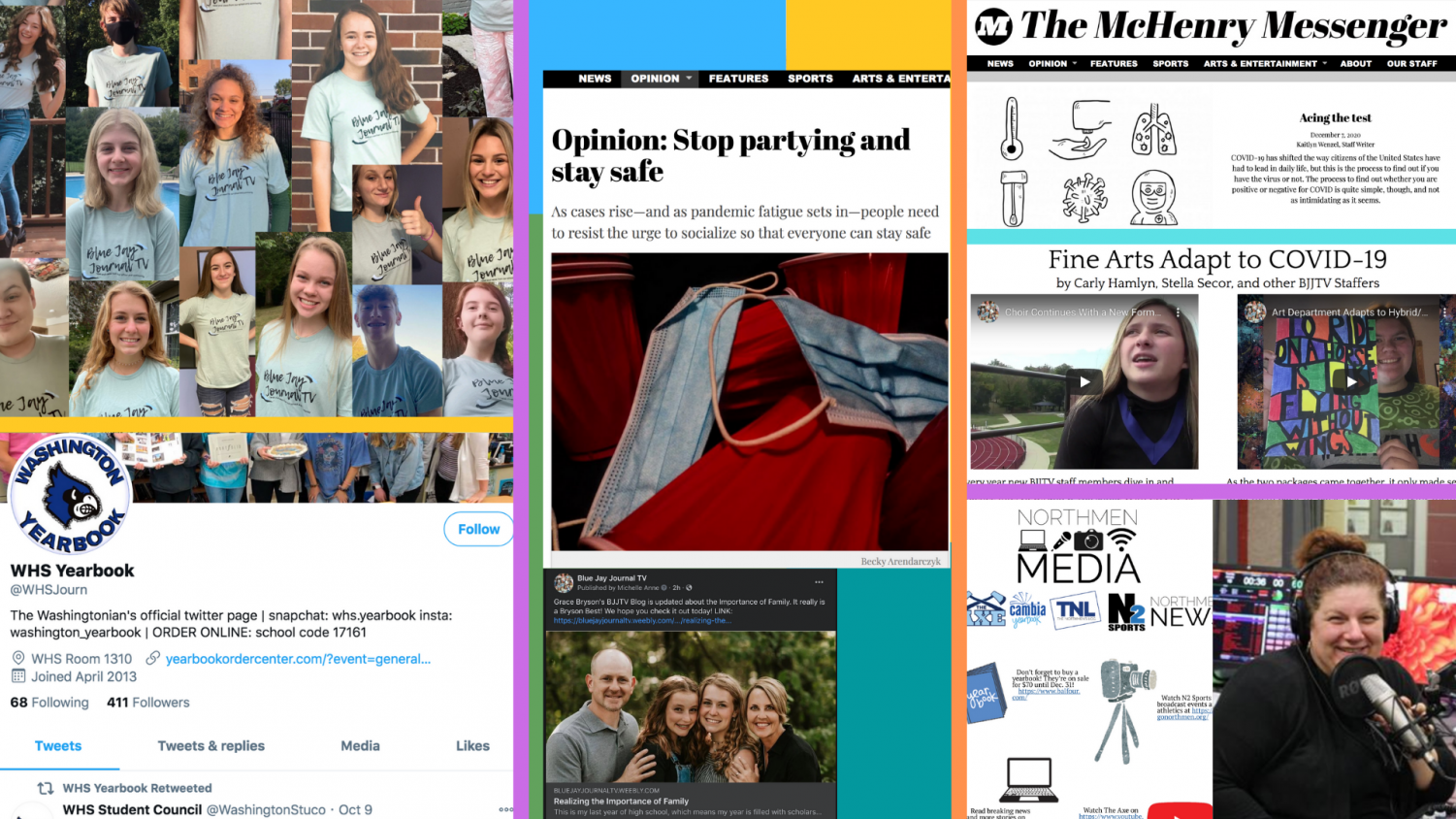 Dane Erbach, adviser of The McHenry Messenger in McHenry High School in McHenry, IL has been fully remote all school year (so far).
Dane's tips:
Find the balance between freedom and support. All teachers think about this in all learning scenarios, but teaching remote has tipped the balance—and teaching journalism complicates it further. Giving kids time to work in breakout rooms during a Zoom lesson gives them some distance to work, but popping in to give them one-on-one time helps them feel supported and valued.
Another tip that's worked for me is to set clear purposes for class. Before the pandemic, my Newspaper class was just a production class—interviewing subjects, writing stories, editing and posting, taking photos and writing captions. Because we are essentially doing the "at home" version of that, it's sometimes easy to take for granted simple teaching techniques to ground and focus a Zoom meeting. I feed them Google Forms where they can report their progress, show them slides to remind them what they should be doing, and spend at least a few minutes setting our course before letting them loose to work on their assignments.
Jane Bannester, TV News and Radio/Podcast of Ritenour High School in St. Louis, MO has been 100% Virtual since opening in August.
Jane's Tips: 
2 screens or 2 computers. I need a screen solely for the virtual meeting, so I can see them and talk to them openly at all times. I need a second screen for my usual classwork, including attendance, answering email from faculty and staff, or viewing the work completed while students are working. NOTE: Visit https://www.twoscreensforteachers.org/ for a chance to buy a second monitor for an educator or request a second monitor as an educator. 
Find a rhythm for working within this environment. It's not about more work, it's about the resources that will translate the most information in the best medium. A video by another source might be more impactful than me relating the types of vocabulary for a newsroom over Zoom. 
I cannot look over a shoulder in the editing process and this is frustrating. The ability to mentor while in the process looks different; and it can turn into a longer time period to give feedback and return final work. 
The burnout of students and teachers is worse than ever. Building in those fun moments, missing those times we laughed and joked over things that had nothing to do with learning, or celebration periods by handing everyone a piece of candy and a simple smile is just missing. It has led me to deeply understand the depths of what we do in teaching is to create a family for our students, and ourselves. I miss my family and feel like I'm limping along like a torn-up soldier returning from the battle. However, every soldier holds the thoughts and memories of why they started this journey and that keeps me going. I keep moving along because I will see my family again. We will rejoice and laugh again someday soon. 
Christina Geabhart, Newspaper, TV, Podcast, Newsmagazine and Online of Oak Park High School, Kansas City, MO has been hybrid from Sept. 2020 to present. 
Christina's Tips: 
Forget "normal." Drop those expectations for yourself and your students. Normal isn't now. Normal may never return. Grieve. Wail. Gnash your teeth. 
Then — take a deep breath. Open the next door. Look for the "what can we do" for something where kids can see they CAN finish and CAN produce meaningful, impactful content. Maybe it's not an entire issue of the newsmagazine, but it's one killer online package they finish – together. Maybe it's not "broadcast-journalism" style, but it's a student body shout out video that improves morale in the building.
Embrace change – change up deadlines, change up how stories are told – look at alternatives for interviewing, alternative story-telling formats and alternative media in which to publish. Can't print this year? Make an interactive digital copy with video clips or hyperlinks. Learn new skills!
Find the positive. Encourage it. In our school, teachers work so hard to assist the failing students to do better, that we often run out of time to keep cheerleading for the students who are working their tails off. I recently, at a colleague's suggestion, emailed all the A students' parents and cc'd the student. My friend's email template mentioned how we "saw and appreciated the efforts and work it takes to be successful" during hybrid or virtual learning these days. Parents were so excited to read positive news! So keep on supporting the struggling learners, but don't forget to celebrate the ones who are making it happen.
Rave about the new publications, new successes, and new opportunities to your students, the student body, parents, admin and your friends. Positive press feeds the students' emotional needs, makes parents proud and gives the principal something positive to share with the community. 
Michelle Turner, adviser of www.bluejayjournal.com of Washington High School in Washington, MO has been hybrid so far all this school year.
Michelle's Tips:
I've dropped perfection. I've let go of everything looking incredibly polished. Due to our minimal equipment and inability to do "normal" and maintain social distancing, I have had to step back and let my students take the reins big time on their stories. Yet, by doing so, I have found great joy and pride in how well they are doing. From taking the time to produce stories about how a local movie theatre does their version of drive-in  movies for the community to introducing the new industrial arts teacher, my students keep impressing me with their gumption and work ethic. I will take gumption and work ethic over perfection any day of the week. 
Christina Manolis-Strauser, Yearbook and Newspaper of Washington High School in Washington, MO has been hybrid all school year thus far. 
Christina's Tips: 
Always have a backup plan. When we started planning the yearbook over the summer, we knew we might not be able to do our traditional yearbook following the deadline schedule we've used in the past. To give us some plans to fall back on, we developed 30 spread ideas that were more interrupter style that could be placed anywhere throughout the book. Examples include: mask fashion, summer staycations, thank you to ____, etc. At any time, if we end up going fully virtual, we have ideas that will be able to fill our page count.
With this idea, club and group photos are becoming a very big concern for us because it accounts for a decent chunk of our pages, but we won't be able to do the pictures until the spring semester (pandemic pending). Worse case scenario, we can list the rosters and schedules for each team, but we might reach out to parents, coaches, and athletes for any photos they might be willing to share. 
If there is one thing this past spring taught us, it's that we might have to rely on technology to get this yearbook completed. So, have students scan social media for ideas, and put out posts on your publication's social media accounts for photo submissions. It is not the best way to get equal coverage in your book, but it might be the difference between finishing and not finishing your book. 
If there is anything that is worth photographing, send photographers. We don't know if the winter sports season will even happen, but we have enough pictures from the first week of practice to go on a spread if we need to. Also, with our hybrid schedule, it has been challenging to send students during our one-hour class to get academic pictures, so push your staffers to use their phones to photograph interesting classroom moments in their own classes throughout the day. The pictures might not be as great as using a professional grade camera, but having something is better than having nothing. 
If you are able to, reach out to different academic departments and ask them to let you know when they might be doing something worth photographing as well (i.e. basically anything besides kids sitting in desks or working on their computers). If you can't get a photographer there to photograph, ask the teacher to send you pictures. 
Most importantly, take time away from the stress of school and let your students bond, vent and relax. Reward them for finishing a deadline. We often want to just keep pushing through one deadline to the next, but if the staffers start to burn out, nothing will get done. Give them that time in your class to mentally recover (for many of them, it is probably their favorite class anyway), and by showing them that you care and appreciate all that they are doing, things will get finished.
Leave a Comment