Satire in news transforms the way audiences consume information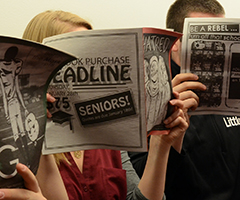 With some news programs, magazines and websites blurring the line between news and satire, the way viewers consume news is changing how they make informed democratic decisions.
"Everything we watch affects the way we think," Michelle Ciulla Lipkin,  executive director of the National Association for Media Literacy Education, said. "With the blurred line of entertainment and news in "real" news, the satirical news shows really play an important role in how we get our information."
News is a central element of democracy, but a lot of young people are receiving their news through a satirical lens. For example, many consumers are even turning to "The Daily Show" or "Saturday Night Live" for presidential campaign news.
Satirical news often does a great job in breaking down and analyzing other news coverage of stories and cultural issues. Lipkin said satirical news can shed light on the important questions that traditional news sometimes can not ask because of limitations.
"It's important to note that the line between entertainment and news is blurred both in satirical news and in real news," she said. "It is very difficult to decipher what is credible information."
Lipkin said she thinks the growing popularity of satirical news shows is due to how bleak the "real news" can be.
"I think what a show like The Daily Show does so effectively is model how to ask questions and to put things in larger context," she said.  "I think humor is a very powerful tool and I greatly appreciate how these satirical shows try to get to the truth through humor."
Lipkin said it is also important to remember that these shows are not "news" shows. Therefore, audiences should not use them as the sole source of information.
"Any kind of news consumption is going to affect the way we think and make decisions," she said.
Besides these satirical news shows, many students are turning to spaces like Twitter and Reddit for their information.  Lipkin said it is important to teach these students about what they see and read, how to determine credible sources, how to question and how to research.
Please visit SchoolJournalism.org for more resources, tips and tricks on teaching news and media literacy in the classroom. For more information on media literacy, visit the National Association for Media Literacy Education's website.