Three Hours Recharges Your Program
I have heard of teachers who have had a lot of success with three-day or five-day boot camps, workshops, etc. with their incoming staffs preparing for the new year through ice breaker games, skill building and work exercises. Those are, I'm sure, spectacular for many schools.
However, multi-day events don't work for everyone.
These days, there's more and more that fills a student's summer:  traveling athletic teams, youth camps, debate competitions, summer school consuming June, family vacations, working summer jobs – the list just goes on and on.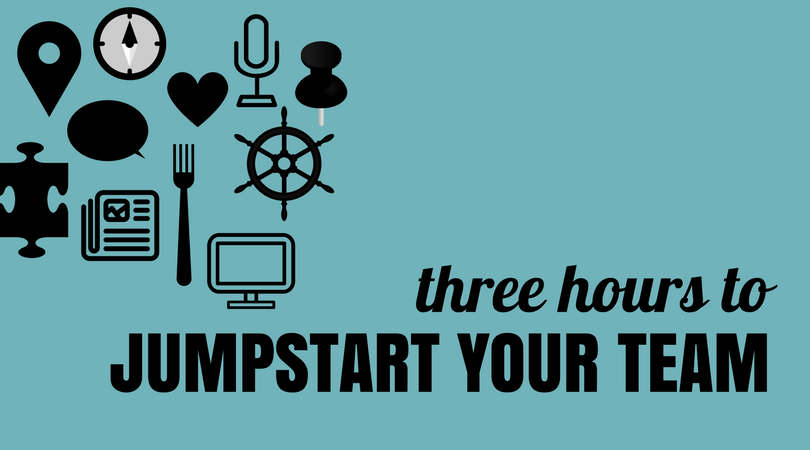 A few years ago, I found myself asking my producer and editors, "Do you have one day, just one day to give to journalism?" Apparently, for me, that one day is the Monday before school starts on Wednesday each August. Here's what works for us, a 1400+ student, suburban public school where I advise the daily broadcast and a monthly newsmagazine:
Each spring, when students apply they are told about "set up day." Somehow this sounds more important than "camp" or "team building time." They are reminded again when we tell them they've been chosen for staff. They are also reminded again during the months of July and August via the GroupMe messaging app. Note: this app is wonderful for staff communications.
On "set up day," I dedicate three hours per publication. Since I have broadcast and newsmagazine that's a total of 6 hours for myself and three per staff. For some reason, three hours seems to be the magic number. It's just short enough that a coach can excuse an athlete, or the band director can march without a clarinet or two. It also helps my working students. They do not need to request an entire day off work, just a few hours. Employers, coaches and parents seem to pleased with three hours.
With broadcast, we start with a quick ice breaker – something to learn names. There are loads of places to find ice breakers or team building games online, one of my favorites is 30 Days of Icebreakers from Walsworth yearbooks.
For work, I have them set up the studio first. Our custodial staff cleans the carpets in our studio and control room each summer, so every cable and tripod must be put in storage. Students have to set up three cameras each with a teleprompter, set up the computer system, set up the TriCaster, check the audio board and mics, review the lighting rig – basically rewire the studio from top to bottom. It's a great time for the newbies to staff to learn the equipment and how to troubleshoot, and for the returning staff to learn some leadership and patience (loads of patience).
There's ALWAYS time for more team building. So, the producers lead this one.
After they finish the studio build and the team build, usually about 90 minutes to two hours, the producer knows who s/he wishes to have in each crew position for the first few weeks of shows. If a student cannot make it to "set up day," s/he doesn't crew the first shows of the year – only those who attend have a chance (this is a big motivator for students). Once the rookie crew is in position, we run a few simple shows. Our show goal is to have a show each and every day – 177 shows a year – starting day one. The producer runs the show over and over, correcting and coaching where needed. It's nothing fancy, but crew will be ready to be on the air before we break for lunch.
Some tired and very proud students are ready to feed the best show possible to their student body – so I feed them. Our school has a great deal with a local pizza company, or you can do a trade for sponsorship or advertising in your publication.
During this time, I also feed the newsmagazine students who have just arrived. It's difficult to survey the building for change and interview the staff on an empty stomach.
This lunch changeover resembles chaos with so many students in the room at one time, but it's a wonderful way to open dialogue between the publications, and have them start to consider potential collaborations between print and broadcast since they'll work together from time to time in the online publication.
After lunch, if broadcast has more work to do, they'll do a few more run-throughs or call it a day. It's now time for newsmagazine to break the ice and build its team.
We then go on a survey of the building. Not only does this tour help them start searching for potential stories for the first issue or launching the news website within the first week of school, but it gives a few of the younger staffers a clearer picture of some features within the building. They learn we have classrooms within classrooms so not every classroom touches the hallway, they learn to navigate the main office, activities office and other offices to find the administrator or other sources they may need on stories, etc. We talk to each administrative assistant about how best to make appointments. This Monday is also a full day for teachers to work in their classrooms, so we try to hit department heads and make that first connection with sources.
Then it's back to the room to debrief, toss out potential ideas, and play more team-building games.
Then it's a walk-through of a story-pitching day. Ideas are chosen, not every idea chosen today always makes it to fruition, but many do. Newbies are paired with returners to head back out into the building to dig deeper into some of the ideas and conduct some interviews. Student interviews will be done later in the week and into the second week of school, either during our class time or during a homeroom time.
There's more debriefing and coaching as they return to the classroom before heading home.
When it's time for me to head home after "set up day," I walk away feeling accomplished. Not only have my two staffs knocked out a lot of work in just a few hours, but while they are focused on other tasks, I have had some time to set up some my classroom and get my desk in order. Yes, it's a juggling act, but so much of advising is.
Yes, you bet, this isn't always as smooth as it sounds, but it really gives the students who choose to attend a leg up on starting the year, it gives myself and my student leaders a better idea of what talent there is to work with on staff. Three hours really supercharges our year.
I hope somewhere within this article, you have found inspiration and ideas to help you recharge your staff. Make your time productive and memorable as we kick off another school year as journalism advisers.
View Comments (3)